Research shows that 70% of organizations are expected to implement low-code or no-code solutions by 2025, up from 25% in 2020.1: With the growing use of code-free software, businesses can increase their digital embedded power, the efficiency of their IT teams, and cost savings.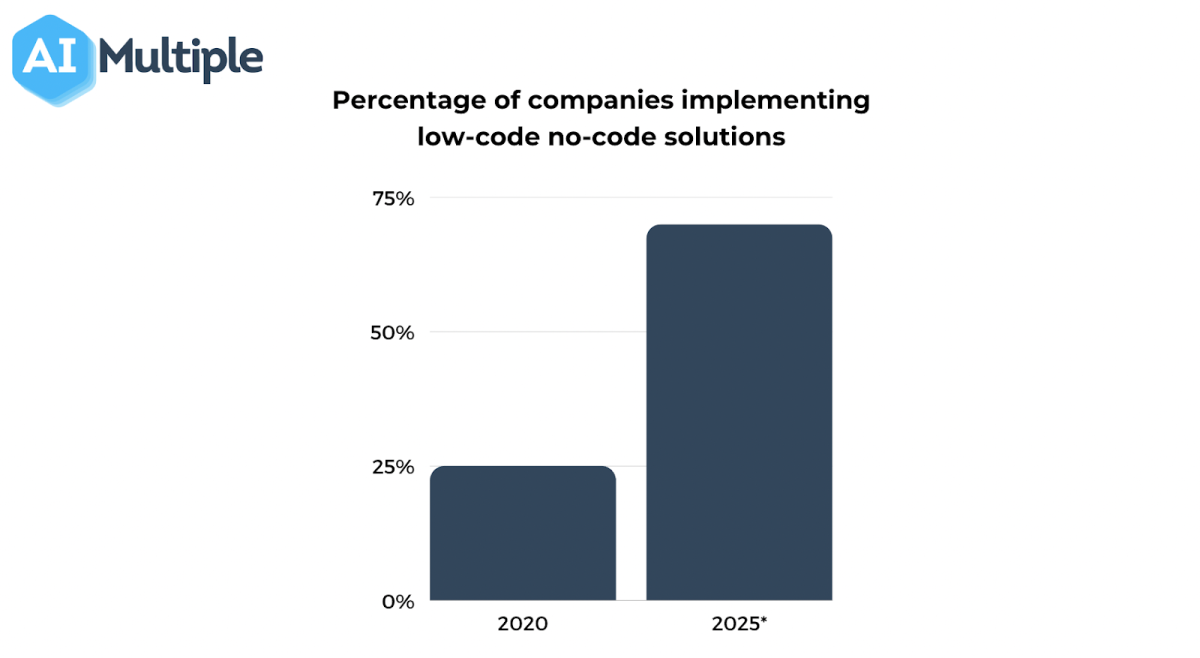 Source: Gartner
*Estimated value
Businesses use no-code development platforms for a variety of reasons, such as:
Prototyping a new idea or product
Automating processes or workflows
Building the application
Automating simple tasks
Website construction.
However, finding the right solution that meets the needs of organizations is not easy, as there are many no-code software solutions on the market. That's why we've put together this article to inform business leaders about the capabilities and features of no-code tools, along with a list of the top vendors in the market with their market presence and capabilities.
What is a no-code development platform?
A no-code development platform is a software program that provides a visual development environment for users, often non-programmers or business users, to design and build applications without the need to write code.
The popularity of no-code development tools raises the question "Is no-code replacing developers?" However, no-code software is created as a business solution to complement mainstream and enterprise solutions that require technical knowledge or coding abilities and that can be used by non-technical users, often called citizen developers.
This technique democratizes application development by bridging the technical needs and the practical implementation department. A no-code approach enables companies to adapt and evolve quickly by allowing non-technical employees to participate in the development process.

Source: McKinsey
Sponsored
UCBOS offers a buildable no-code platform tailored for all business functions including supply chain, procurement, finance and more. The system equips business leaders with dynamic business data models to develop an interoperable and composable digital ecosystem.
Top 7 No-Code Software Solutions
In determining the vendors to examine in our research, we narrowed down our list of vendors based on certain criteria. We used a company's B2B reviews and number of employees to assess its market presence, as these metrics are public and verifiable.
Therefore, we set some limits to focus our work on the best companies in terms of market presence, choosing companies with:
500+ employees
200+ reviews on review platforms including G2, Trustradius, Capterra
at least one Fortune 500 reference
The following companies meet these criteria:
1- Creation
2-Ventilation
3- Service Now App Engine
4-Salesforce platform
5-Quickbase
6- Jotform applications
7-Microsoft Power applications
We analyzed vendors in terms of market presence and advertising (eg free trial and price). You could sort Table 1 by ease of use ratings, for example.
Sellers:
free trial
free version
cost
Ease of use* (out of 10)
Overall score* (out of 5)
Creation
Available
Available
Starts at $25 per user / month
9:00
4.6:
air table
Available
Available
Starts at $10 per user / month
*calculated annually
8:9
4.6:
Service Now App Engine
Available
N/A
not provided
8:8
4.5:
Sales force platform
Available
N/A
Starts at $25 per user / month
*calculated annually
8.2:
4.4:
Quickbase:
Available
N/A
Starts at $35 per user / month
*calculated annually
8:7
4.4:
Jotform applications
Available
Available
Starts at $34 per user / month
*calculated annually
9.2:
4.7:
Microsoft Power Apps
Available
N/A
Starting at $5 per user/app/month
7:8
4.1:
Here we also analyzed the features and capabilities of the no-code software. Since all vendors offer workflow automation and application development capabilities, we have not included them in the table. You can sort Table 2 by integration capabilities, for example.
Sellers:
Workflow automation
Building the application
Customizable UI
AI/ML models
Integrations
Offline functionality
Security
customer support
Quality of support* (out of 10)
Creation
Available
Available
Available
Available
WebSocket, OAuth, SOAP, REST, OData, LDAP, WebAPI
Available
ISO/IEC 27001:2013, HIPAA, GDPR
phone support
24/7 (Live)
Chat room
9.1:
air table
Available
Available
Available
N/A
REST, WebAPI
N/A
SOC 1, SOC 2, ISO 27001
Chat room
8:7
Service Now App Engine
Available
Available
Available
Available
REST, SOAP!
Available
ISO 27001, SOC2
phone support
24/7 (Live)
8.6:
Sales force platform
Available
Available
Available with paid add-ons
Available
REST API, SOAP API, Bulk API, Pub/Sub API
N/A
ISO 27018:2019, HIPAA, GDPR, SOC 1, SOC 2, SOC 3
phone support
Chat room
8.3:
Quickbase:
Available
Available
Available with paid add-ons
Available
REST, HTTP
Available
ISO 27001, SOC 1, SOC 2, HIPAA, GDPR
phone support
24/7 (Live)
Chat room
8:8
Jotform applications
Available
Available
Available
not provided
Jotform API:
Available
SOC 2 Type II
24/7
8:7
Microsoft Power Apps
Available
Available
Limited
Available
REST, WebAPI
Available
ISO 27001, GDPR
Live chats or calls Monday through Friday, 8 a.m. to 5 p.m.
7.7:
No-code software features to consider when narrowing down your options
Workflow automation
This functionality enables organizations to automate business processes within their organization. Once conditions and triggers are established, the code-free software automates those actions, increasing efficiency and reducing manual effort for business users.
Building the application
No-code platforms enable users to build mobile apps using a user-friendly interface that often uses drag-and-drop capabilities. Thus, individuals with little or no coding skills can create apps that meet their needs.
For example, a restaurant can develop an app to manage table reservations. They can create an interface that allows customers to select a date, time, and table, and the system will update the restaurant's availability in real time without writing code.
Customizable UI
Companies can design their app's user interface to reflect their brand identity and improve user experience. This creates a consistent brand image across all digital touchpoints, which can increase customer loyalty and satisfaction.
AI/ML models
Some no-code platforms come with pre-built artificial intelligence (AI) and machine learning (ML) models. These models can be integrated into applications to provide advanced features and capabilities that can aid in decision making.
Integration with other tools
Codeless software often integrates with other tools and systems, allowing for easy data transfer across platforms. This capability can help businesses create a unified technology environment within their company.
Offline functionality
Apps that can run offline can be built without code on some platforms. As a result, users can use app-specific features even when they're not online, and any changes or updates they make will be synced as soon as they connect to the Internet once. This ensures that even in places with poor internet connectivity, users can access and use the software.
customer support
Codeless platforms offer customer support to help consumers use the platform and fix any issues they may encounter. This ensures that customers can effectively use the platform and resolve any issues that may arise, and these can be in the form of tutorials, a dedicated channel, live chat, email or phone support.
data security
Data security is an important feature in codeless platforms. Strong security measures must be in place to protect private information processed by applications built on these platforms. This may involve secure user authentication and compliance with relevant data protection regulations. Data security ensures that all data related to your company, as well as any user or customer data, is kept safe and secure.
Transparency statement.
AIMultiple serves multiple tech companies including Creatio and UCBOS.
If you need help with your supplier selection process, we can help:
Find the right vendors
Conn, Stamford (November 10, 2021). "Gartner Says Cloud Will Be Center of New Digital Experiences". Gartner. Retrieved November 24, 2023.