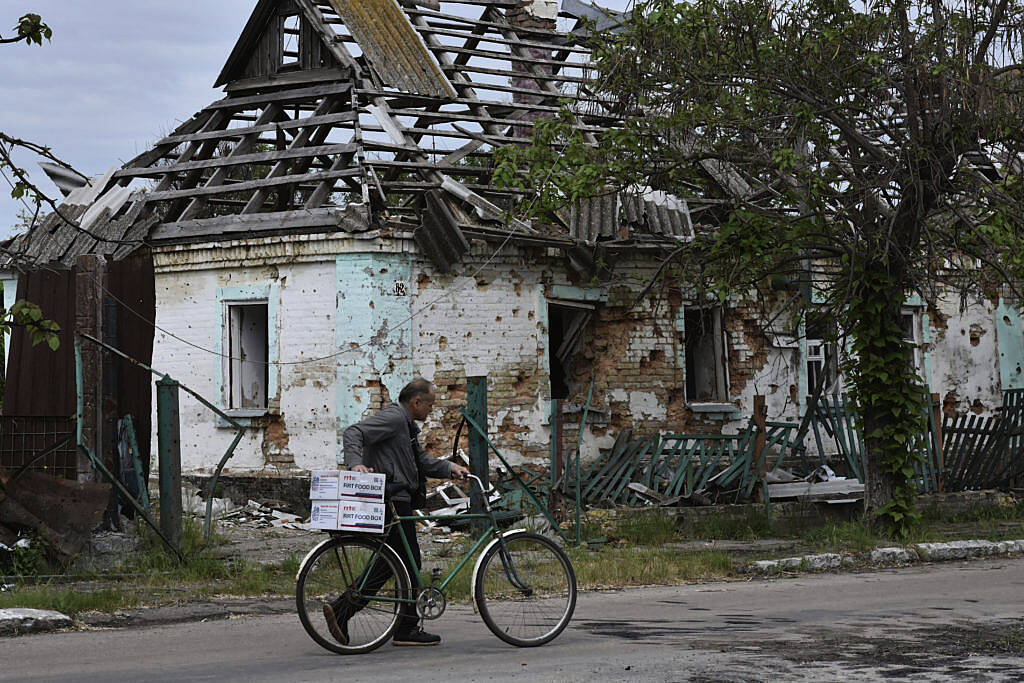 Russian officials say Ukrainian military saboteurs carried out an attack across the border, wounding eight people in a small town.
Officials in Kiev have denied any links to the group and blamed the fighting on a rebellion by disaffected Russians against the Kremlin.
Neither version of events can be independently verified in a region that has witnessed the temporary spread of Ukraine's nearly 15-month war.
The governor of Russia's Belgorod region, which borders Ukraine, said that a sabotage group of the Ukrainian armed forces had entered the town of Graivoron, located about five kilometers (three miles) from the border.
The city was also subjected to Ukrainian artillery fire, he said.
Governor Vyacheslav Gladkov said that eight people were injured and most of the residents had left the area, but the situation remained "tense".
He said that three houses and an administrative building were damaged.
In the nearby village of Zamostie, the projectile hit the preschool and caused a fire.
One woman was wounded in the hand, Gladkov said.
He also reported that Russian anti-aircraft systems shot down an unmanned aerial vehicle over the Belgorod region.
Gladkov said that an anti-terrorist operation is underway and that authorities are imposing special controls, including checking personal documents and stopping the work of companies that use "explosives, radioactive, chemically and biologically dangerous substances".
Kremlin spokesman Dmitry Peskov said that Russian President Vladimir Putin was informed about the speech invasion of the alleged saboteur.
Attempts are being made to "kick them out of Russian territory and liquidate them," he said.
Peskov described the operation as an attempt by Ukraine to divert attention from the eastern city of Bakhmut, which Moscow claimed to have captured after months of fighting but where Kiev says it is still fighting.
However, Ukrainian military intelligence officers have not confirmed that Kiev has deployed saboteurs.
Instead, they claimed that Russian citizens seeking regime change in Moscow were behind the Gryvoron invasion.
Andriy Chernyak, a spokesman for Ukrainian intelligence, said Russian citizens belonging to the shadowy groups of their Russian Volunteer Corps and the Legion of Freedom of Russia were behind the attack.
Mykhailo Podoliak, adviser to Ukrainian President Volodymyr Zelensky, wrote on Twitter that Ukraine "has nothing to do with it".
He suggested that an "armed guerrilla movement" was behind the attack.
The Russian Volunteer Corps claimed in a Telegram post that it had re-crossed the Russian border after claims of a border breach in early March.
The only driving force in the totalitarian country is the always armed guerilla movement. #Ukraine follows events #Belgorod the region #Russia with interest and studying the situation, but that has nothing to do with it. As you know, tanks…

— Mykhailo Podolyak (@Podolyak_M) May 22, 2023
The Russian Volunteer Corps describes itself as a "volunteer organization fighting on the side of Ukraine."
Little is known about the group, and it is unclear whether it has any ties to the Ukrainian military.
The same applies to the Legion of "Freedom of Russia".
The RVC was founded last August and is reportedly made up of mostly anti-Putin far-right extremists with ties to Ukrainian far-right groups.
Earlier Monday, Ukraine's Zaporozhye nuclear power plant, Europe's largest, spent hours on emergency diesel generators on Monday, losing its external power supply for the seventh time since a full-scale incursion by its neighbor, UN-led Russia. said the nuclear watchdog.
Rafael Grossi, head of the International Atomic Energy Agency (IAEA), wrote on his Twitter page:
Hours later, the national energy company Ukrenergo announced on Telegram that it had restored the power line feeding the power plant.
But for Mr. Grossi, it was another reminder of what is at stake in a Russian-occupied factory that was shelled nearby.
"We must agree to protect (the plant) now. "This situation cannot continue," Mr. Grossi said in his latest call for the area to be spared fighting between Ukrainian and Russian forces.
IAEA personnel are stationed at the plant, which is occupied by Russian troops.
The plant's six nuclear reactors, protected by a reinforced shield that can withstand an errant projectile or missile, have been shut down.
But a power failure can shut down cooling systems critical to reactor safety even when they are shut down.
Emergency diesel generators, which officials say can keep the plant going for 10 days, may not be reliable.
Mr Grossi said it was the seventh time the plant had lost its external power supply since a full-scale Russian invasion in February 2022.
The Zaporizhia nuclear power plant is one of the 10 largest nuclear power plants in the world.
Ukraine's presidential office said on Monday morning that at least three Ukrainian civilians were killed and 16 others were wounded in a Russian attack in the previous 24 hours.
The Ukrainian Air Force reported that four of the 16 Russian missiles fired at Ukrainian targets and all 20 drones were shot down.
Military targets and public infrastructure in Dnipro, Ukraine's fourth-largest city in the center of the country, were singled out for Russian attacks that wounded eight people, officials said.
Dnipro firefighters were injured, 12 houses, a shop and a primary school were damaged, Governor Serhi Lisak said.