President Yoweri Kaguta Museveni today visited and pledged support to Kyesiiga Green Village Agricultural Center in Lwemonde Village, Masaka District, Kyesiima Parish, Kyesiiga Sub-county.
He said he will provide them with all necessary support including a Canter Truck to help them in their farming activities such as transporting their crops from the gardens to the market.
On arrival, the President was warmly received by former Vice President of Uganda Edward Kiwanuka Sekandi and the team at Kyesiga Green Village Agricultural Center led by Kabito James where he was shown a range of agricultural products including; coffee plantations, pineapple plantations, nursery beds and a solar irrigation power plant that pumps water to a tank used to irrigate the farm.
Addressing the farmers, President Museveni commended them for being obedient and turning their lives around by embracing government development programs such as the Uganda Coffee Development Authority (UDCA) and Operation Wealth Creation (OWC).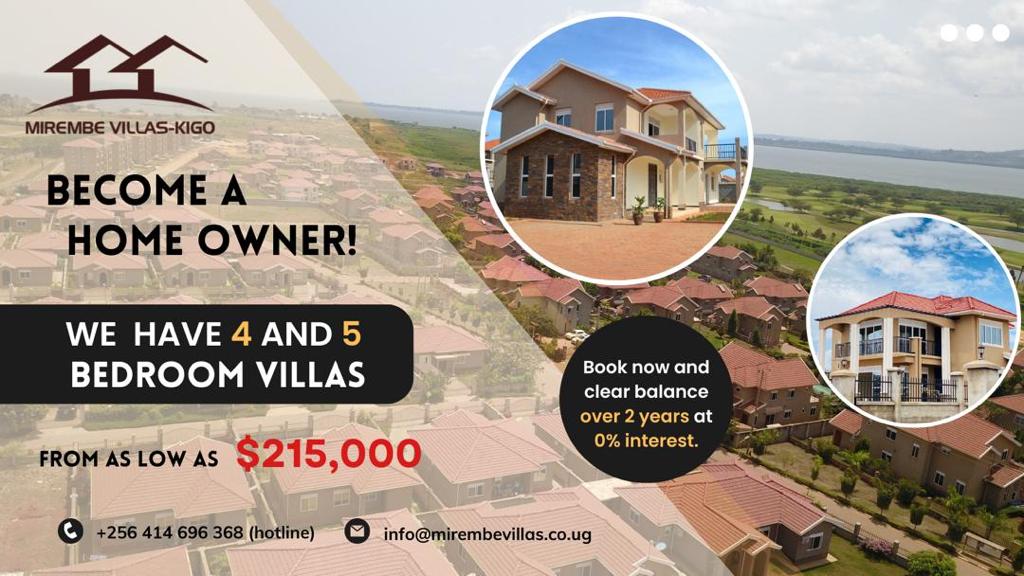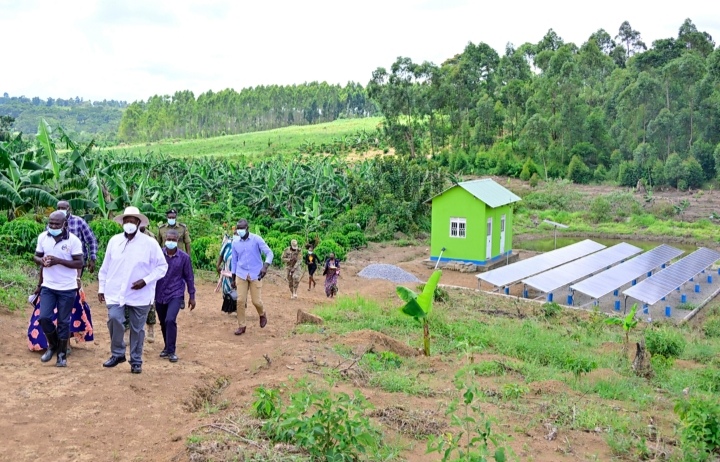 He went ahead and told the farmers to increase the value of their produce so that they get more out of their sweat.
Representing the farmers, Mr. Kabito told the president that they have 20 acres of coffee plantation, 40 acres of pineapple plantation, two and half acres of passionfruit and half an acre of nursery bed.
As for the profit, mr. Kabito informed President Museveni that they were earning Shs.9 million annually from 450 coffee plantations using the old method of farming, but with the newly invented farming method they were earning Shs.23 million annually. per acre of land with 1,300 coffee plantations. He explained that 450-1300 coffee seedlings are planted in each acre. He added that the new method can help increase the amount of coffee in Uganda. On the pineapple side, they have 40 acres and 12m shs per year.
Model farmer Kabito also thanked the president for the visit. He stated that they earn their living through modern farming and their vision is to transform the community from subsistence farming to commercial farming. He added that in order to achieve their vision, they are first training their sapling customers, sensitizing the community about changing mindsets, and hiring 20 workers.
He appreciated the President for initiating development programs such as: Uganda Coffee Development Authority and Operation Wealth Creation which supplied him with 1,000 coffee seedlings, 20,000 pineapple seedlings which changed his life and community.
He concluded by informing the president about the difficulties they face in processing their products and transporting them to the market. He disclosed that they usually use 50% to 60% of the trial to transport their products and therefore it is worth crediting him to save their burden by promising to get them a truck.
Do you have a story in your community or an opinion to share with us? Email us at editorial@watchdoguganda.com.