The much awaited durian season is approaching and durian lovers are in for a treat.
Golden Moments, the popular local durian brand, is set to revolutionize the durian experience with its exclusive Golden Moments VIP Premium Membership.
For a nominal fee of S$99 per year (S$0.28 per day), members will enjoy a range of benefits including access to fresh premium durians at cost.
What are the benefits of signing up for this membership?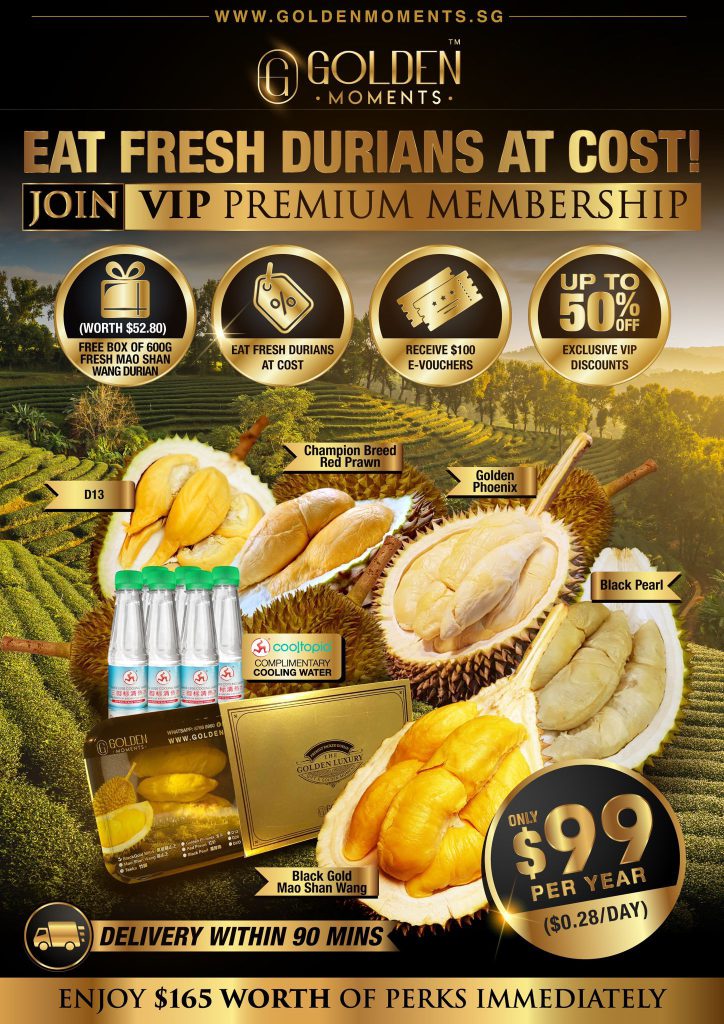 Upon registration, members will immediately receive a welcome pack worth S$165. This package includes 600g of de-shelled fresh Black Gold Premium AAA grade Mao Shan Wang (S$52.80), a Golden Moments e-voucher worth S$100 and two packs of delectable Long Da Ge Lobster Snacks (worth S$12.80). Members can expect to receive these bonuses each year after renewing their membership.
By partnering with Three Legs Brand, a trusted local cooling brand with 86 years of experience, Golden Moments has added an extra perk for its VIP Premium members.
Upon registration, members will also receive a three foot cooling water pack consisting of six 200ml bottles. In addition, for every three boxes of fresh durians purchased during their membership, members will receive three additional 200ml bottles of three-foot cooling water.
The most attractive benefit of this membership is the privilege of buying fresh premium durians at cost. Depending on seasonal prices, VIP Premium members will enjoy prices ranging from S$8 to S$12/1kg, making it an affordable indulgence for durian lovers.
In addition, members can enjoy discounts of up to 50 percent on all other durian and non-durian premium products and gift sets offered by Golden Moments.
This includes popular items such as 24K Mao Shan Wang Galaxy Cake, Signature Mao Shan Wang Snowskin Mooncakes and Durian Mochi, among others. These exclusive discounts will be available throughout the year, so VIP Premium members can satisfy their durian cravings whenever they want.
Early bird promotion is valid until May 31
To sweeten the deal, Golden Moments is running an early bird promotion until May 31, 2023, exclusively available to the first 1,000 registrants. Early birds will be able to enjoy their first year of Golden Moments VIP Premium membership for only S$88.
Furthermore, upon registration, they will be able to pre-order their fresh durians at cost price, ensuring they are among the first to taste the king of fruits during the upcoming durian season.
Featured Image Credit: Golden moments