For years, iPad Pro owners have complained that the "Pro" is certainly obvious hardwarebut software is consumer-grade, making a high-end tablet just a very expensive way to run iPad apps that already run as fast as you want on much more affordable iPad models. This has improved in small steps over the past few years, but the iPad Pro still doesn't feel like a Pro device, and that's a software problem.
The most obvious example is the lack of Apple's own professional content creation software on the platform. Now, with the release of Final Cut Pro and Logic Pro for iPad Pro, it's a little easier to justify the "Pro" on iPad Pro.
Real professional software
I'm by no means a professional video editor or sound engineer, so I can't tell you if the iPad version of these apps will meet the needs of those types of content creators. But I know enough about both of those things to see clearly after a few days of using them both that they are a far cry from iMovie and GarageBand.
Final Cut Pro requires an iPad with an M1 processor, and it's easy to see why. It has no problem chewing through multiple layers of 4K HDR footage and includes great features like real-time multi-camera editing controls and the ability to shoot new footage with the iPad camera right in the app (with new controls for resolution, frame rate, whites). balance and disclosure).
Apple:
Refined machine learning-based features include Scene Removal Mask, which can remove a subject from the background so you can easily layer it on top of titles, etc., without a lot of masking work, Noise Isolation to clean up sound with large backgrounds. noise, and Auto Crop to produce videos with different aspect ratios (like vertical video for social media) while keeping objects in the frame.
Logic Pro is much more forgiving, only requiring an A12, meaning it will run even on a basic 8th generation iPad. However, it has a lot more to offer than GarageBand. After ten minutes, I started to get out of my depth and marvel at all the little options and tools buried behind simple icons and toolbars.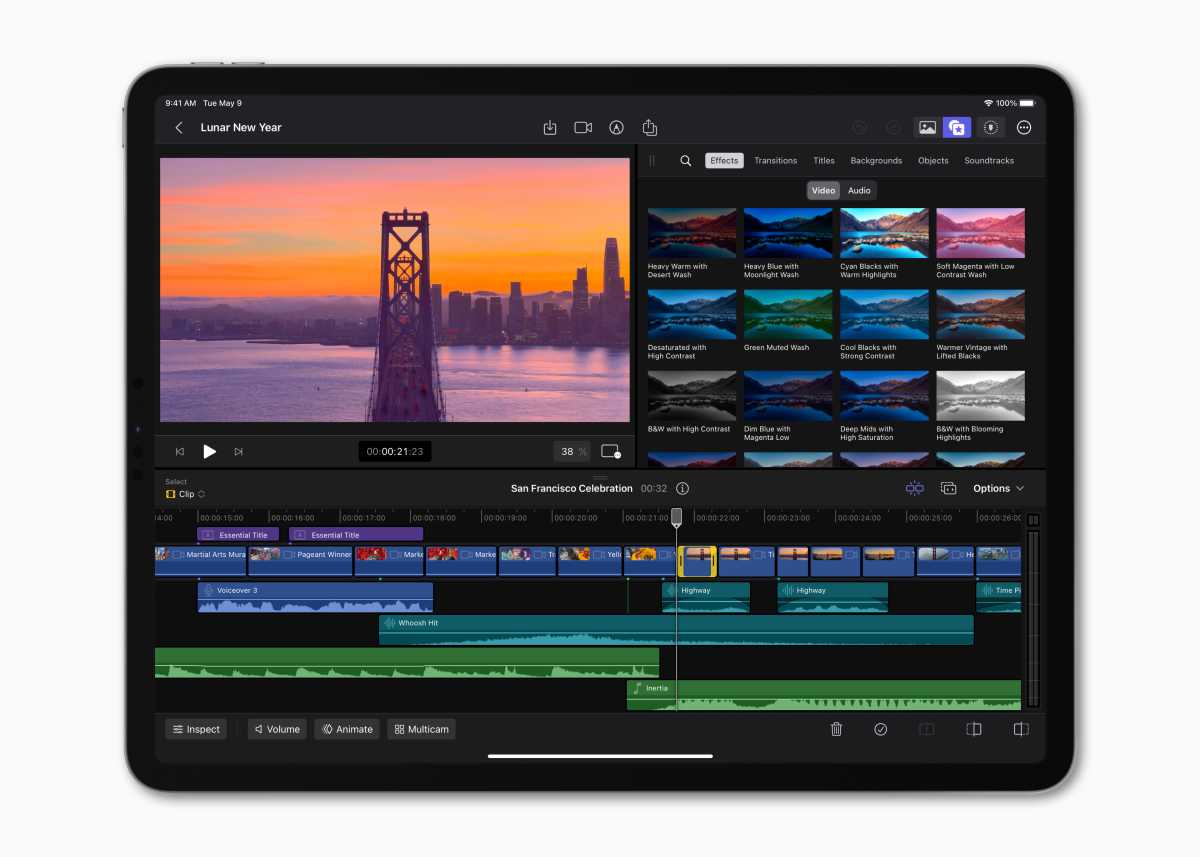 Apple:
These are definitely not iPad-only Mac versions. As familiar as they are, there are some major differences, especially when it comes to plugin support. But there's a lot of ground between "true pro app" and "literally everything the Mac version does," and the initial releases of Final Cut Pro and Logic Pro fall somewhere in between.
The first touch requires adjustment
Those used to editing audio or video on a Mac will probably find the first-touch interface a bit strange at first. If you have a keyboard attached, you'll find that many of the most common keyboard shortcuts work just like they do on a Mac.
But for newbies, touching the content directly to manipulate it will feel natural. This is especially true in Logic Pro, where direct editing of channels and samples is faster and more obvious, and you can quickly play a melody or strum with a few taps using the on-screen keyboard, guitar strings or pads.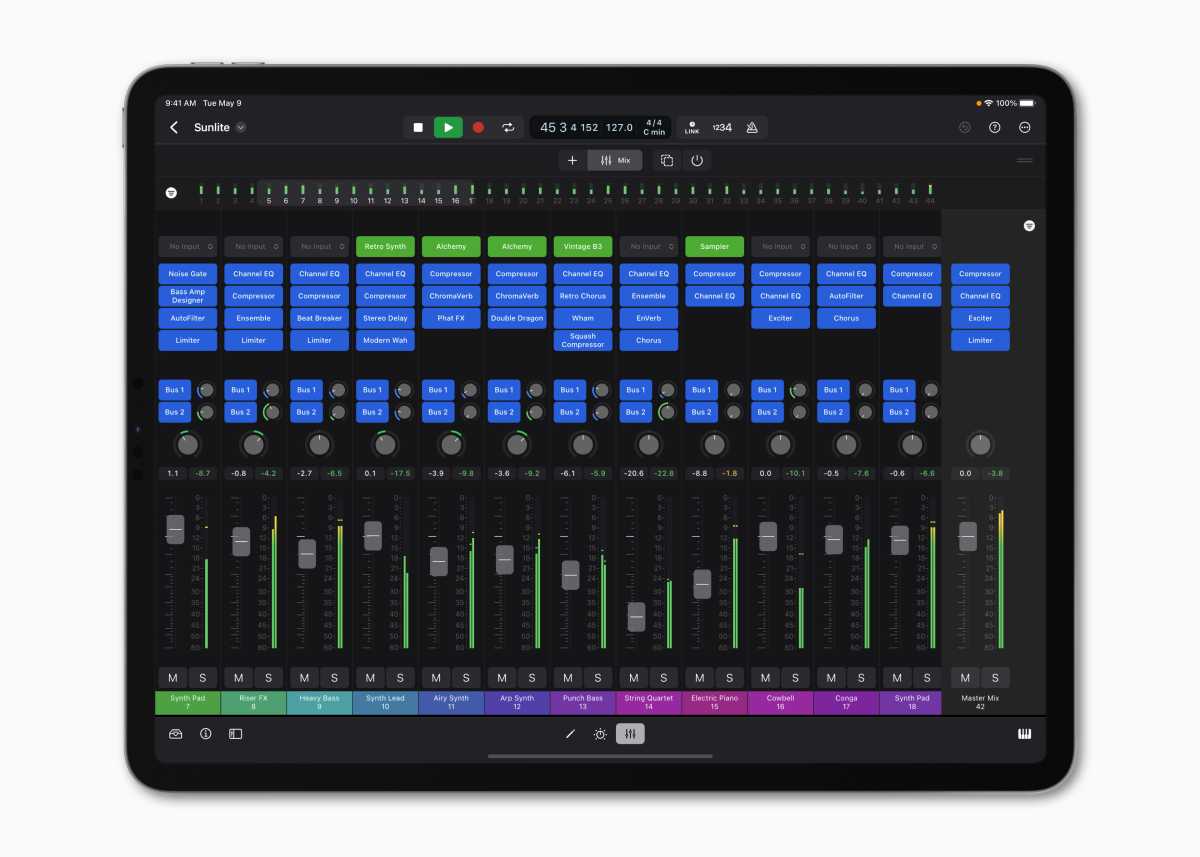 Apple:
We've all seen videos of engineers sitting at a huge mixing board and pushing multiple sliders at once – with multi-tap it's possible to do it right on your iPad screen. I have a feeling that with a little practice, some old-school Logic Pro fans will come to prefer using touch for most of their workflow.
Of the two applications, Logic Pro will probably be the most interesting as a "toy" for non-professionals. It's less dependent on creating your own original content, with a large library of hundreds of instruments, effects, beats, and more, and a really quick and easy way to preview them. You can easily create dozens of unique tracks without ever importing or recording your own samples.
Apple:
The best feature is the price
I'm as tired as the next subscription consumer for all digital content, especially mobile apps. But I have to admit, despite being subscription-only, the pricing for these apps is perhaps the best feature.
Each of these apps costs $4.99 per month or $49.99 per year with a one-month free trial. You must subscribe four years match the $200 price of Logic Pro for Mac or six years To match the price of Final Cut Pro.
Whether you're a student working on a project or just making a custom video for a company retreat, the idea that you can pay just $5 to use a seriously professional tool for a month and then cancel is a huge plus. is A case can be made for high pricing for a one-time purchase of professional software, but an equally good argument is made for affordable subscription pricing that democratizes access to these tools.
Some companies (looking at you adobe) have subscription prices for professional creative apps that do more to keep plebeians out than welcome them. If you don't commit to a full year, Premiere is $31.49 per month. Apple's pricing is a low barrier to entry for newcomers and provides a reasonable "top-up" for those who already have Mac applications and just need to do a little work every now and then.
I can't believe I'm saying this, but I kind of wish the Mac versions had the same $5/month subscription price.