Hakone is a beautiful, mountainous region in Japan, and it can be the perfect retreat from the chaotic city life. If you want to get away from Tokyo for a day or two, Hakone is the ideal place.
In fact, Hakone is one of the best places to see Mount Fuji.
Are you ready to travel? Don't go without travel insurance.
I recommend SafetyWing Nomad Insurance, an affordable travel insurance that offers automatic monthly payments that you can cancel at any time. I have been using it since 2019 and I can assure you that it is the perfect solution for nomads like me and you. Learn more by reading our SafetyWing review.
So how do you get to Hakone from Tokyo? In this guide, we will explore the easiest way to do it From Tokyo to Hakone by train
If you have a JR Pass, the pass will cover most of the journey. Read on to learn more.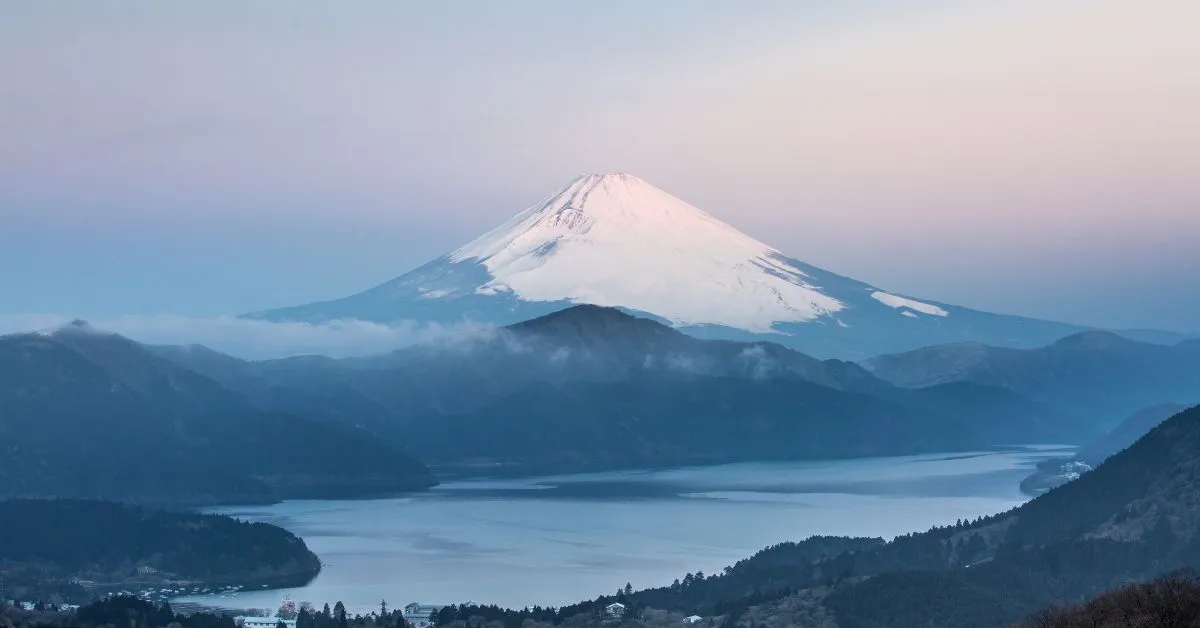 Getting from Tokyo to Hakone by train
To get to Hakone by train, you can start your journey at Tokyo Station.
From there, you can take the Hikari or Kodama bullet train to Odawara Station. The journey takes about 40 minutes.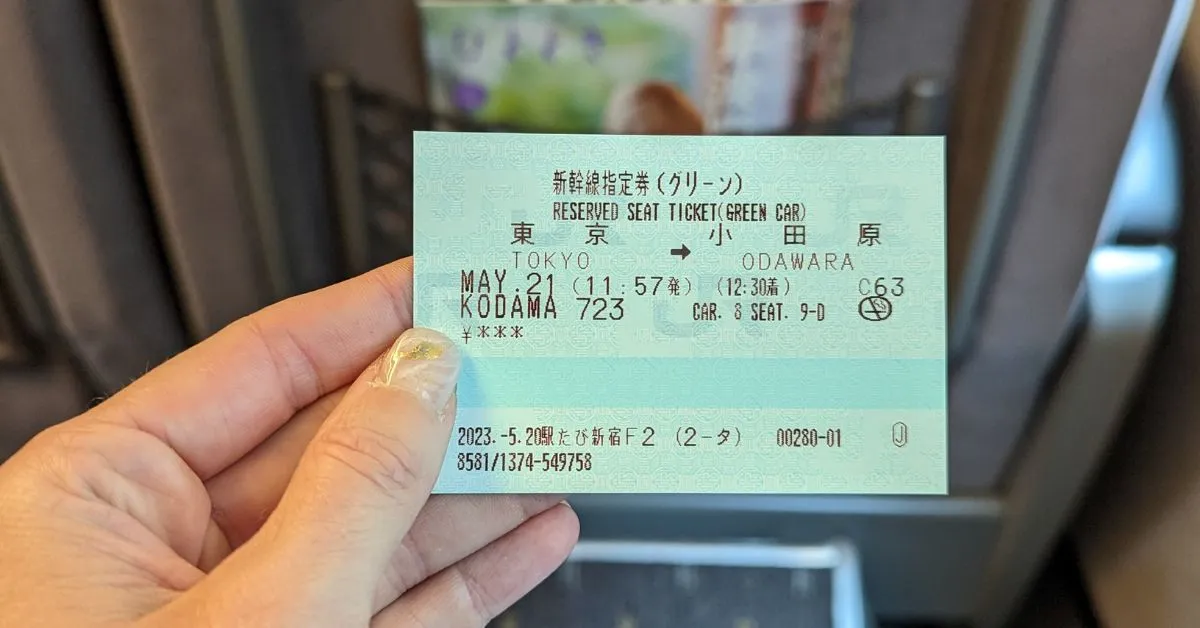 Then you need to buy a ticket to Hakone-Yumoto (local train not included in JR Pass). The journey takes about 20 minutes.
Depending on the location of your hotel, you may need to take another local train.
So to summarize, here are the steps to follow to get from Tokyo to Hakone:
Go to Tokyo Station
Take the Hikari or Kodama bullet train to Odawara Station (40 minutes)
Go to Hakone-Yumoto Station (20 minutes)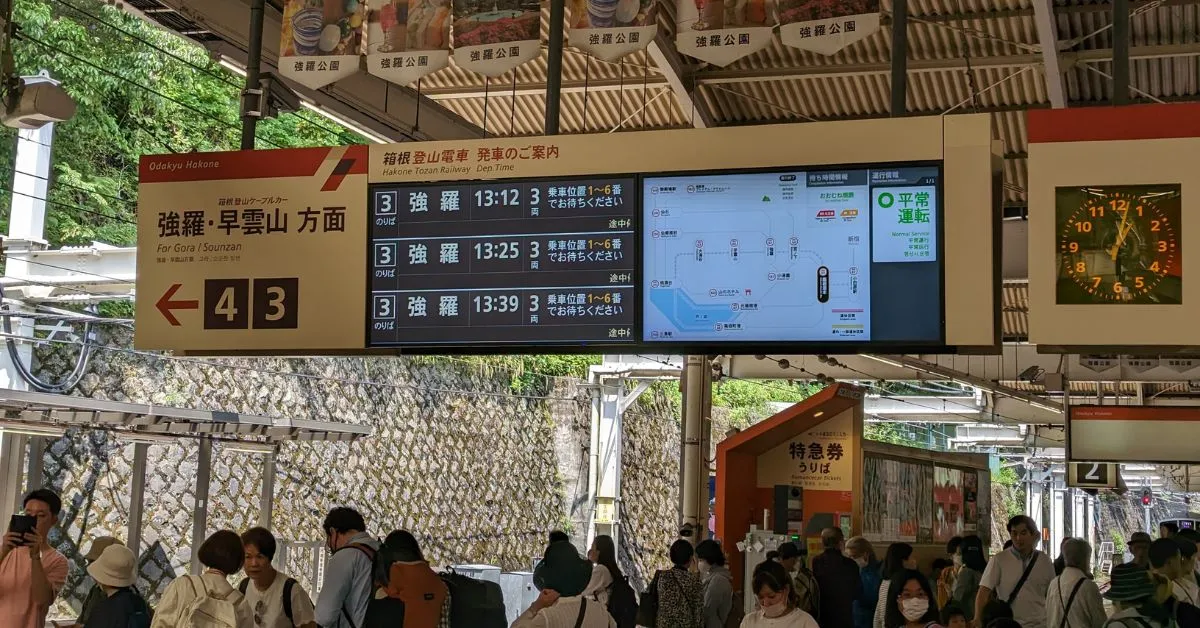 ---
Planning your upcoming adventures? Travel by bus! (It's cheap!)
---
If you are unsure of the route, we recommend going to the JR ticket office at Tokyo Station and they can help you figure out your route to Hakone.
Alternatively, if you don't have a Japan Rail Pass, you can browse train and bus routes with 12GO.
Day trip to Hakone from Tokyo
Hakone is a perfect day trip destination from Tokyo. However, depending on your itinerary, you may want to spend the night in Hakone.
You can organize a day trip on your own or join a guided tour to discover Hakone. Most daily trips last all day.
Now, it's important to note that typically, you'll have a better chance of seeing Mt.Fuji in the morning when the sky is clear. You may not see it if it's very cloudy, so I recommend managing your expectations.
To increase your chances of seeing Mt.Fuji, we recommend an overnight stay in the area.
Although Hakone is known for its breathtaking views of Mount Fuji, it can be difficult to see the mountain due to poor visibility. This is especially true in the afternoon when fog and low clouds tend to cover the mountain.
To give you an idea, my partner and I left Tokyo Station around 12:00. We arrived at our hotel around 2pm to drop off our luggage.
When we arrived at Lake Ashinoko around 3:00pm, it was extremely cloudy and started to rain. Visibility was very poor and we could barely see the lake.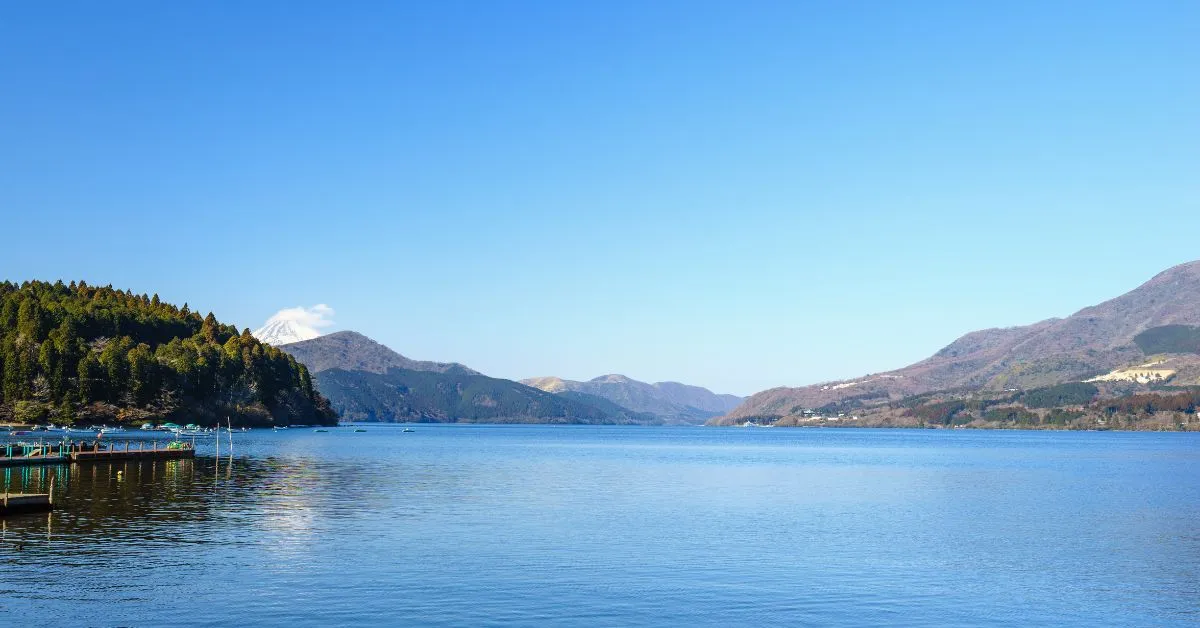 ---
---
Walking around Hakone
From Hakone-Yumoto Station, a local train goes to Gora Station. The train is quite slow and steep and will give the impression of going back and forth.
You can take the cable car from Gora station to Sunza. From there, you can take the Hakone Cable Car (it's basically a gondola) to Togendai Station, where Lake Ashinoko is located.
Togendai station is popular because you can do sightseeing from there.
You will also find buses and taxis at the main stations.
If you plan to visit the area for two days or more, consider purchasing the Hakone Freepass for unlimited travel on the 8 transportation networks in the Hakone area.
Is Hakone worth visiting?
I believe Hakone is worth the trip. This is a great place to see Mt.Fuji and enjoy nature.
However, if you are limited on time and can't spend at least 1-2 nights in the area, it can be disappointing if you don't get to see Mt.Fuji.
Hakone is a unique place, but the weather will dictate your experience and you may not see Mt.Fuji.
I know I'm repeating myself here, but it was an expensive and long trip for us, so we would need at least 2 days to maximize our chance of seeing Mt.Fuji.
Luckily, our next stop was Lake Kawaguchiko. My goal here was to visit two places to increase our chance of seeing Mt.Fuji since it was too cloudy on my first visit to Japan and I didn't see it on the day trip.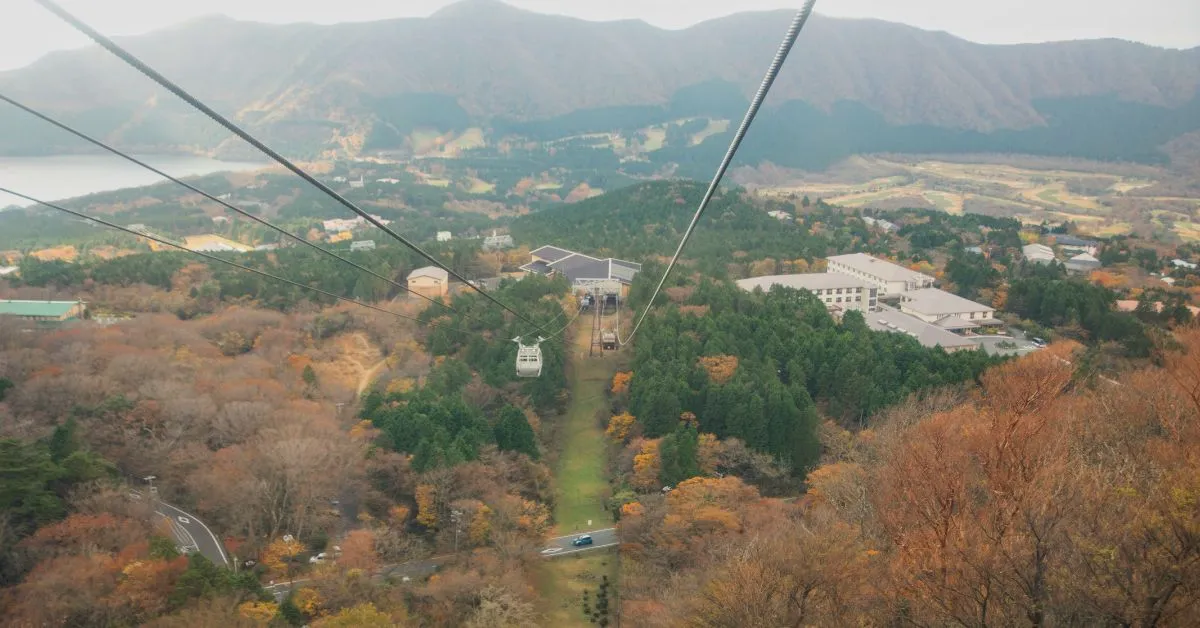 Is one day in Hakone enough?
A day in Hakone is enough for a quick and basic experience of its tourist attractions. But there is no guarantee that you will be able to see Mount Fuji.
If you are on a tight schedule and can't spend more than a day on your visit, I recommend getting an early start or waking up early the day you check into your hotel.
That way, you'll have a better chance of seeing Mt.Fuji.
How many days is it in Hakone?
If you want to get the most out of your visit to Hakone, it's best to stay at least two nights. This way, you'll have a better chance of seeing Mt.Fuji, as the weather can be unpredictable.
You will also have plenty of time to explore other attractions such as hot springs and onsen. Also, there are many places to walk and see the shrines.
Finally, you can also take a sightseeing tour of Lake Ashinoko.
Be sure to choose a hotel near the Lake or one of the stations like Gora Station.
There are more restaurants and cafes around. We stayed a little further away and it was more difficult to get around the area.
Given that it is a mountainous area, walking is not always the best option as there are main roads without footpaths and walking there can be dangerous.
Traveling around Japan
When in Japan, one of the best ways to get around is to use the Japan Rail Pass.
This pass gives unlimited access to all JR lines in the country and you can find more details on their website.
We used the bullet train to get to Odawara station from Tokyo and then just needed to buy local train tickets to get to Hakone.
Final thoughts on visiting Hakone from Tokyo
Hakone is definitely a great place to visit if you are in Tokyo or Osaka. It's a fantastic place to enjoy nature, and depending on the day and weather, you can even see Mt.Fuji from some spots in Hakone.
It's best to plan ahead and stay at least 2 nights to increase your chances of seeing Mt.Fuji. Also consider purchasing the Hakone Freepass if you plan to move around the area.
Finally, don't forget to book a hotel near one of the main stations for added convenience.
Will you be visiting Japan soon? Read one of the following guides: