CMA hits back against criticism of MS-Activision decision
Q: Do you consider the implications of your decisions on the UK's international reputation as a place to do business?
This is a clear reference to Microsoft president Brad Smith's claim that the CMA's decision to block the Activision deal was "bad for Britain", and that the EU was a better place to start a business.
Sarah Cardell says the CMA absolutely committed to support competitive markets in a way that is "absolutely good" for the UK and its economy.
The CMA's chief executive explains to the Business and Trade committee that:
Competition is a keystone, an absolutely foundational block of UK competitiveness.

You want to have strong competition in markets, it promotes growth and promotes innovation.
Q: Everyone's in favour of competition in markets… do you consider our international reputation at all in your decisions, and whether the UK looks 'open to business'?
Individual cases need to be decided on their merits, Cardell insists. But 'absolutely, the CMA thinks about the impact of its decisions when it considers its role strategically.
Cardell hits back against the claim that the CMA has undermined the UK's reputation, saying:
I believe that strong competition is a very positive signal for the UK's reputation externally.
CMA chair Marcus Bokkerink wades in to support this point.
Bokkerink tells MPs that all businesses know that there's a big difference between building a business, or investing in a start-up, and buying an already well-established firm with established positions.
The two are not the same, Bokkerink points out, saying:
The UK has always encouraged, and it's the CMA's duty to support and encourage, open and competitive markets.
Bokkerink questions whether confidence in the UK will be helped by "turning a blind eye to anti-competitive mergers".
Key events
Time to wrap up… here are are today's main stories:
Yellen warns of worldwide panic if debt ceiling not raised
European stock markets are ending the day in the red, as fears over the US debt ceiling ripple across trading floors.
In London, the FTSE 100 index is down 31 points or 0.4% at 7746. The blue-chip index is being dragged down by Vodafone, which has now lost over 8% today after announcing 11,000 job cuts this morning.
Germany's DAX and France's CAC are down around 0.2%.
Investors have noted warnings from US Treasury Secretary Janet Yellen today that a default on government debt would likely leave millions of Americans without income payments, potentially triggering a recession that could destroy many American jobs and businesses.
Yellen told a gathering of community bankers that the unprecedented economic and financial crisis would be exacerbated by possible disruptions to the federal government's operations, including air traffic control, law enforcement, border security and national defense, and telecommunications systems.
The accompanying financial crisis could multiply the severity of the downturn, she said in remarks prepared for delivery, adding,
"It is very conceivable that we'd see a number of financial markets break – with worldwide panic triggering margin calls, runs and fire sales."
Yellen also warned:
"Our economy would suddenly find itself in an unprecedented economic and financial storm….

And the resulting income shock could lead to a recession that destroys many American jobs and businesses.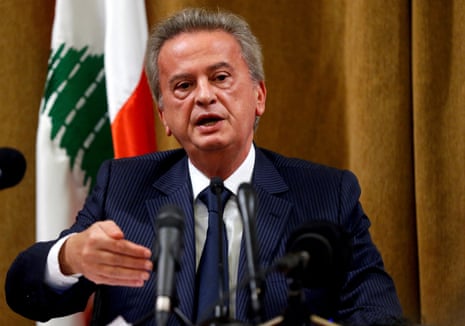 Reuters are reporting that French prosecutors have issued an arrest warrant for the central bank governor of Lebanon, Riad Salameh.
This dramatic move comes after Salameh failed to attend a hearing in Paris today, they say.
AFP report that Salameh was due to be questioned on corruption charges, adding:
A European judicial team from France, Germany and Luxembourg is conducting a corruption probe into an array of financial crimes, including illicit enrichment and alleged laundering of $330m, implicating the Lebanese governor, Riad Salameh.

Salameh, 72, who has held his post for almost 30 years, has repeatedly denied all allegations against him. He has insisted that his wealth comes from his previous job as an investment banker at Merrill Lynch, inherited properties, and investments.

The three European governments in March 2022 froze over $130m in assets linked to the probe. During a visit to Lebanon in March, the European delegation questioned Salameh about the Lebanese central bank's assets and investments outside the country, a Paris apartment — which the governor owns— and his brother Raja Salameh's brokerage firm Forry Associates Ltd.

According to a senior Lebanese judicial official, Riad Salameh never received his summons from Paris despite several attempts to deliver it.

The official said a Lebanese judge sent the notice to Salameh several times over the past two weeks, but it was returned each time because the governor was not present at the central bank to receive the notice.
More here.
Federal Reserve policymaker Loretta Mester has dampened hopes that US interest rates could soon be held.
Mester, president of the Federal Reserve Bank of Cleveland, told a conference in Dublin today that she does not think the US central bank is at a point yet where it can hold interest rates steady for a period of time, given how stubborn inflation is.
Mester said:
"The approach I'm taking is that I would like the policy rate to get to a point where, when I'm thinking about what would the next policy change be, I want it to be equally a potential increase versus a decrease."
Atlanta Fed President Raphael Bostic made similar comments on Monday, saying that he would lean towards another rise in borrowing costs, not a cut.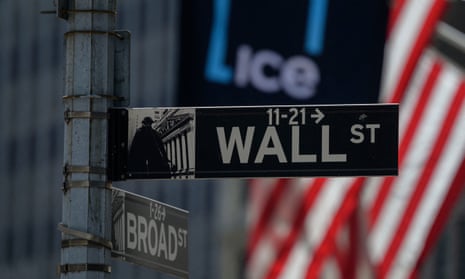 Wall Street has opened lower.
The Dow Jones industrial average has dropped by 130 points, or 0.4%, to 33,218 points.
The broader S&P 500 has lost 0.2%, with the tech-focused Nasdaq down 0.1%.
Home Depot is leading the fallers on the Dow, down 3.7%, after the DIY chain cut its annual sales forecast and projected a steeper decline in profit than previously expected today.
Home Depot warned that demand for tools and building materials was weakening as inflation-wary Americans cut back on spending, such as on home improvement.
Traders are also hoping to see signs of progress over the US debt ceiling today. Democratic President Joe Biden and top congressional Republican Kevin McCarthy are due to hold talks over how to raise the U.S. government's $31.4 trillion debt ceiling and avert an economically catastrophic default.
Treasury secretary Janet Yellen has warned today that the US economy's recovery from the Covid-19 pandemic would be undone and a new financial crisis would be triggered if the debt ceiling isn't raised, leading to a default.
More economic data… and US factory output has jumped unexpectedlty.
US industrial production rose 0.5% in April, after flatlining for the previous two months.
In April, manufacturing increased 1.0%, driven by higher output of motor vehicles and parts.
The index for mining rose 0.6 percent, while the index for utilities dropped 3.1 percent, as milder temperatures in April lowered demand for heating.
Canadian inflation picks up
Inflation in Canada has picked up for the first time in nearly a year, a handy reminder that the road out of the cost of living crisis isn't smooth.
The Canadian consumer prices index rose by 4.4% in the year to April, up from 4.3% in the year to March, lifted by highe rent prices and mortgage interest costs.
This was the first acceleration in headline consumer inflation since June 2022.
Gasoline prices rose by 6.3% in April compared with March, the largest monthly increase since October 2022, after the Opec group cut its output at the start of April, driving up crude prices.
The 0.4% month-on-month rebound in US retail sales in April indicates that higher interest rates and tightening lending standards are yet to deal a major blow to consumers, says Andrew Hunter, deputy chief US economist at Capital Economics.
Huntet adds:
That said, with the April gain coming after two months of declines, real consumption growth is still likely to slow quite sharply in the second quarter.
US retail sales miss expectations
US consumer spending was weaker than forecast last month, new economic data shows.
US retail sales rose by 0.4% in April, missing forecasts of a 0.8% rise, after a 0.7% drop in March.
Online spending (at non-store retailers) rose 1.2% month-on-month, and was 0.9% higher at health and personal care stores.
But spending deteriorated at furniture and home furnishing outlets (down 0.7%), and at electronics and appliance stores (-0.5%) and at sporting goods, hobby, musical instrument and book stores (-3.3%).
Department stores saw a 1.1% drop in spending.
IMF warns Germany's economic growth will remain muted in near term
The German economy has shown resilience over the last year thanks to a strong policy response and a mild winter, but economic growth will remain muted in the near term, the International Monetary Fund (IMF) said today.
Tighter financial conditions and the energy price shock have begun to weigh on near-term growth, the IMF warned in its country report for Germany.
It forecast growth in Germany's gross domestic product (GDP) to stay near zero in 2023, before gradually strengthening to between 1% and 2% in the period of 2024 to 2026.
Over the longer term, average GDP growth is expected to fall back below 1% as the population ages and with no significant accelerations in productivity or labour supply foreseen.
Although headline inflation is falling steadily, core inflation is proving stickier, according to the report, which warned:
"A top priority in the near term is thus to support disinflation with a moderate tightening of the fiscal instance in 2023."
The CBI has appointed a Chief People Officer to lead cultural change at the organisation, following a series of sexual misconduct allegations reported by the Guardian.
As Interim Chief People Officer, Elizabeth Wallace will start the process of implementing the 35 recommendations put forward by law firm Fox Williams, which held an independent investigation into allegations of misconduct at the business lobby group.
Rain Newton-Smith, the CBI's new director general, said:
"I am so pleased to welcome Elizabeth on board as Chief People Officer.

Her role will be integral in reforming our people strategy- defining our shared values as we collectively recover from the challenges of recent weeks. With over two decades' worth of experience, I'm confident that her guidance will accelerate our efforts to effect meaningful change across the CBI."
Earlier this month the CBI appointed business ethics consultancy Principia Advisory to help overhaul its operations. It has scheduled an extraordinary general meeting for midday on 6 June, after more than 50 large businesses, including John Lewis and NatWest, suspended or cancelled their membership following allegations of sexual misconduct/
Elizabeth Wallace has previously worked as Head of Portfolio Talent at private equity group Hg and Director of Executive Search at investment group BlackRock.
Wallace says she will "lead the way on cultural transformation" at the CBI, adding:
Making sure the newly created Chief People Officer role becomes a permanent part of the CBI's DNA will be front of mind, as I work with people across the organisation to strengthen our employee experience offering."
The MPs also heard about the CMA's concerns about the high profit margins at petrol retailers, particularly supermarkets:
Sarah Cardell told MPs on the Business and Trade Committee.
"Supermarkets have historically been the cheapest suppliers by and large at the retail level,"

"And I should say that it remains the case that many of the factors driving up petrol and diesel prices are external factors, including obviously the impact of Russia's invasion of Ukraine.

"But nonetheless, what our evidence is showing us is that the rise in margins doesn't appear to be entirely due to factors outside of retailers' control.

"What we appear to see is evidence that at least one of the supermarkets has increased its own internal targets for margins, we're not seeing a strong competitive response from the other supermarkets there."