How do you keep track of upcoming meetings, tasks, deadlines, or any activity across projects?
Having multiple calendars to manage different activities is chaotic. And that's why you need a calendar that also has project management features.
A project management calendar can help you plan and organize projects. Keeping track of the project schedule becomes easier.
Let me give you a glimpse of why you should use a calendar for Project Management.
Visualize all projects in one place
Different calendar views for easy visualization
Track current employee activity
Sharing calendars with colleagues
Saving multiple calendars with different filters
Color coding activities for better visualization
Open project tasks directly from the calendar
See the bigger picture in several projects
For all project data, you need a tool that integrates with your Microsoft Dynamics 365 CRM. That's when Dynamics 365 Calendar comes into play.
Calendar 365 is an online meeting scheduling and activity management tool. Along with scheduling appointments, you can manage your resources and activities from Calendar 365.
Calendar 365 does everything required for project management. It has three types of calendars: Resource Calendar, Customer Calendar, and Organization Calendar. You can use the resource and organization calendar for project management. Let's find out how.
Project management organization calendar
Entity Calendar allows you to visualize any entity in a Calendar. So all Microsoft Dynamics 365 CRM projects can be seen in the Calendar. The picture shows not only the projects, but also all the activities related to the respective projects.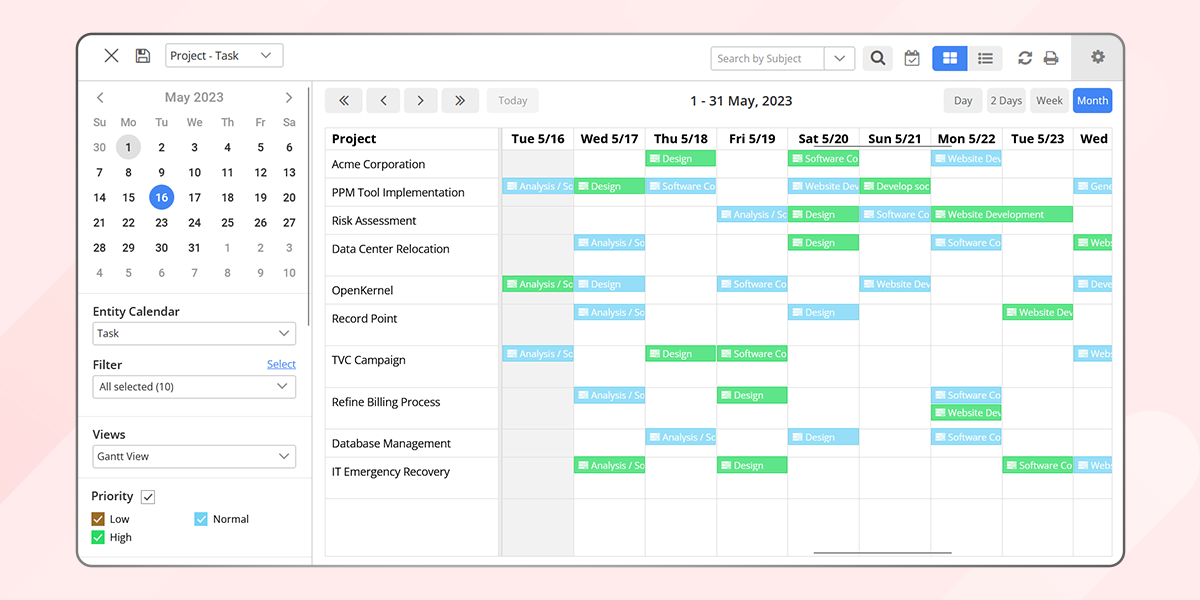 The images show the list of project entities and the current activities of their respective projects. For more details about an activity, you simply hover over it and it will show detailed information about the activity type, start and end date, task owner, priority, allocated resource name, and more.
Let's discuss the above calendar view in detail. As you can see, the actions are easy to imagine. Here are some factors to consider to improve your visualization power.
1.CalendarView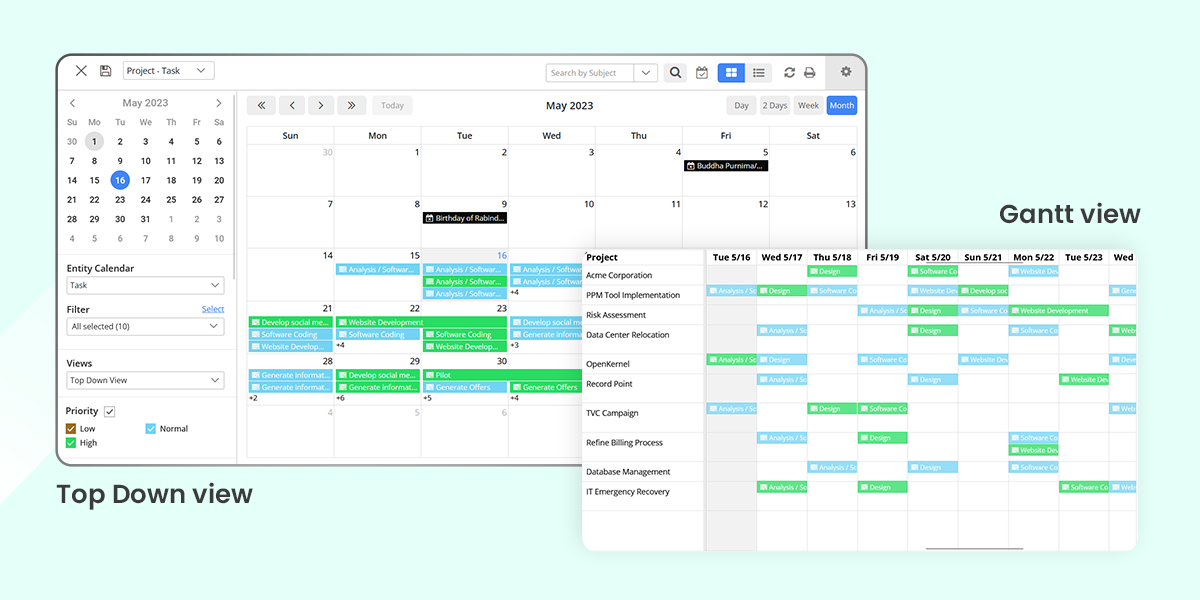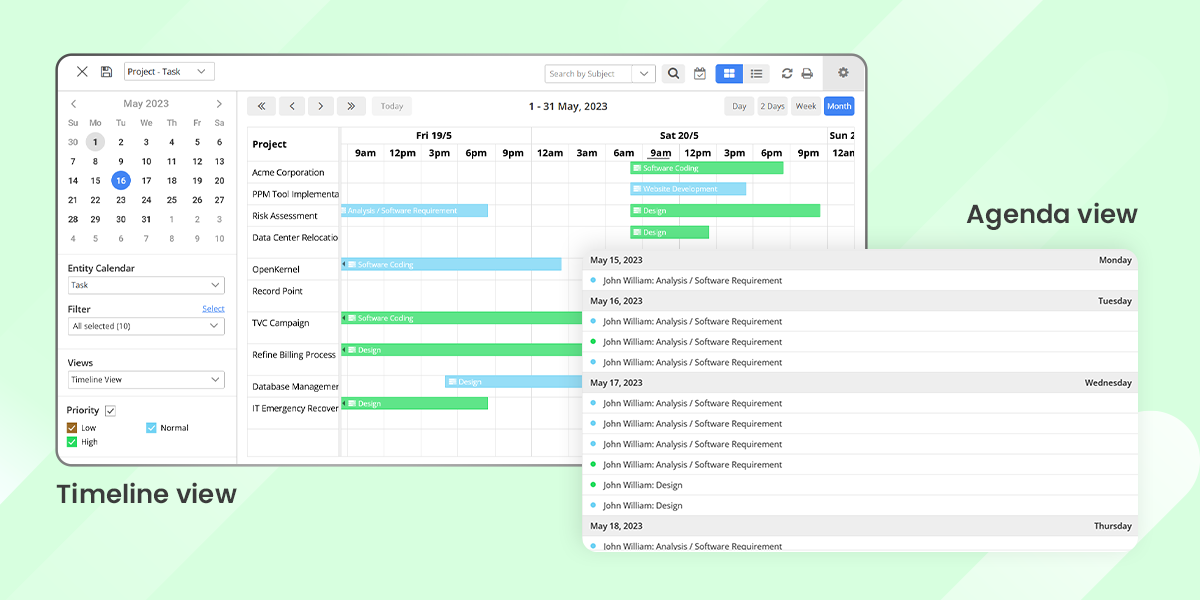 Calendar 365 has four different views called Gantt view, TopDown view, Agenda view, and Timeline view. You can choose the one that suits your eyes and helps you find exactly what you are looking for. Most users prefer the Gantt view, especially for managing multiple projects. It provides visualization of multiple projects on one screen. The image above shows all the different views of Calendar 365.
2. Color coding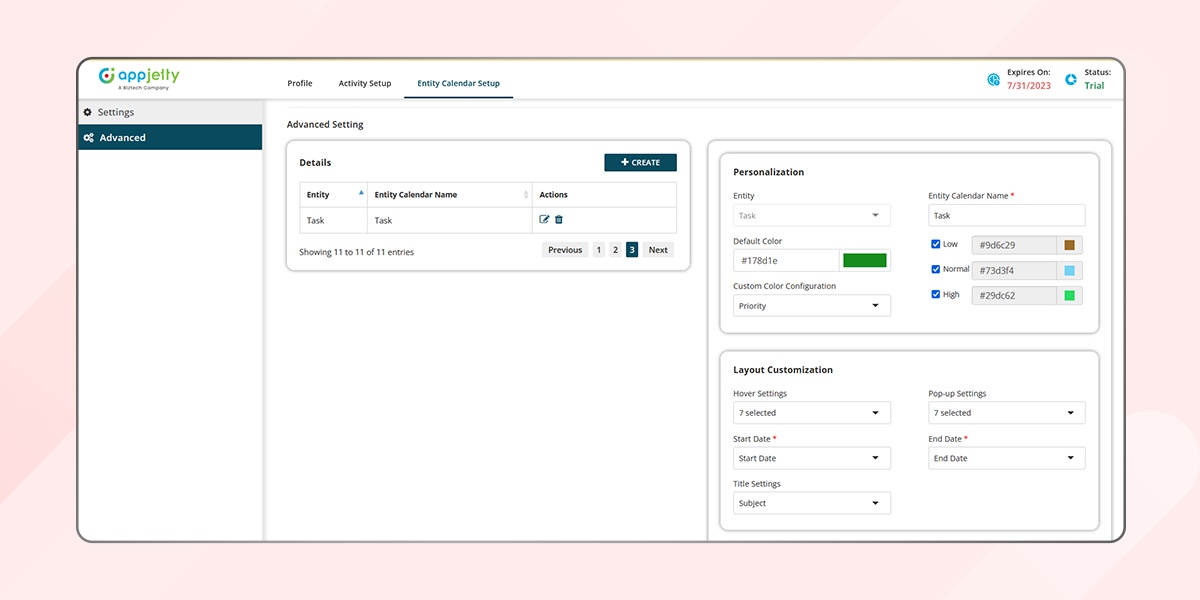 You can color code tasks based on their priority. For example, you can keep red for high-priority tasks, green for normal-priority tasks, and yellow for low-priority tasks. You are free to choose the color of your choice. Colors help you easily differentiate tasks without clicking on them for more information.
3. View by day, week, month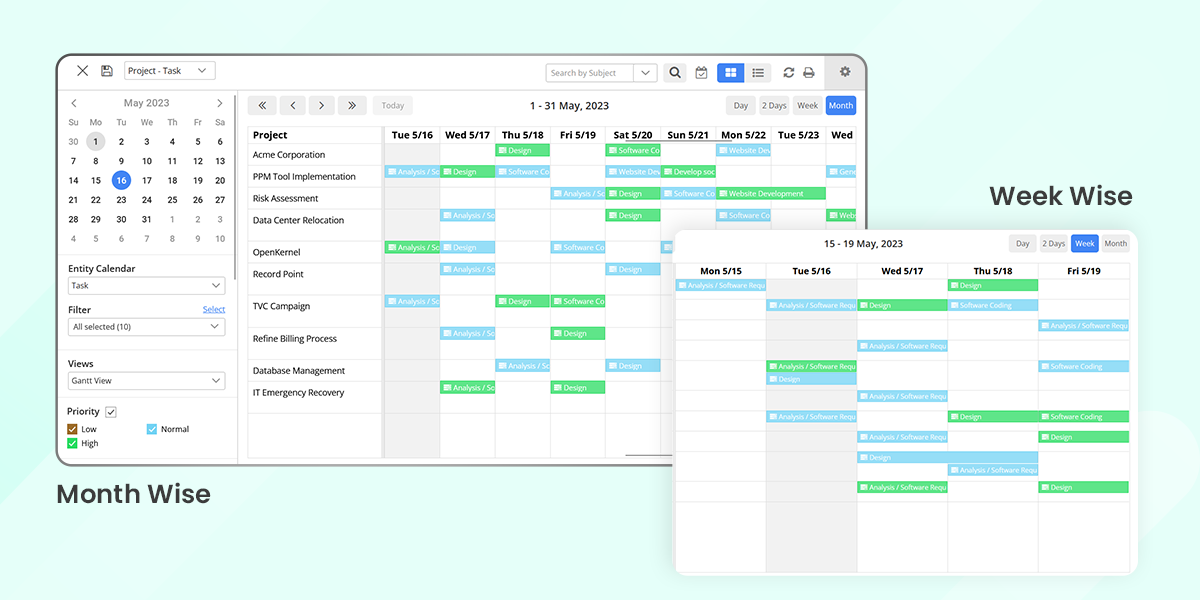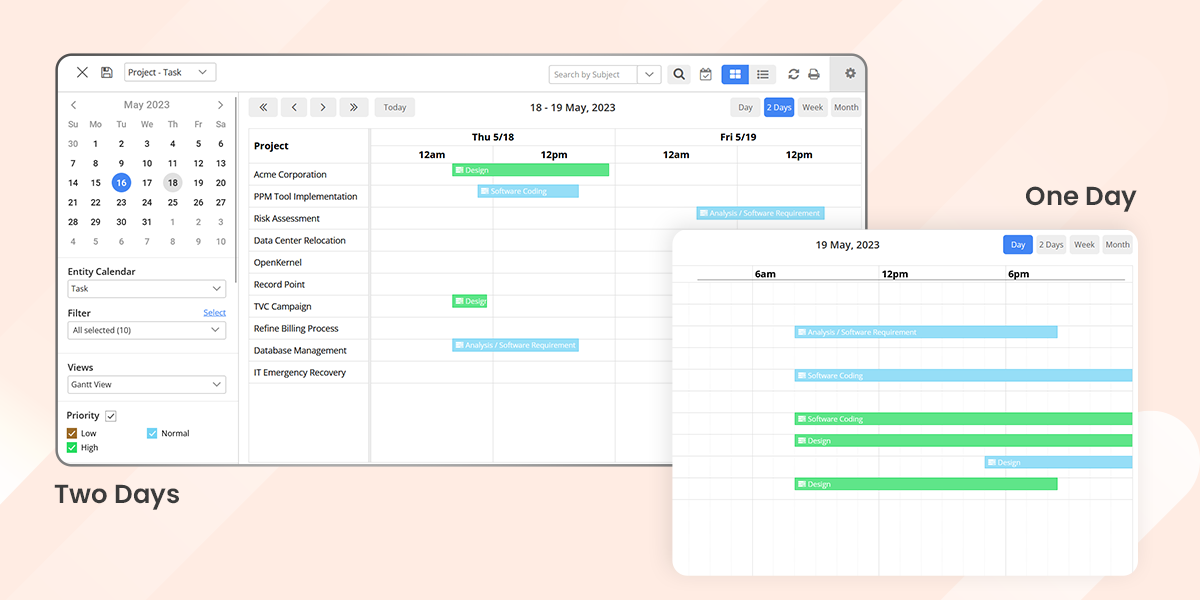 Whether you want to see a list of activities for today, two days, one week, or one month, Calendar 365 has it all. So if you are planning to see what events are scheduled for this week, it becomes easy to see them in one place.
4. Task status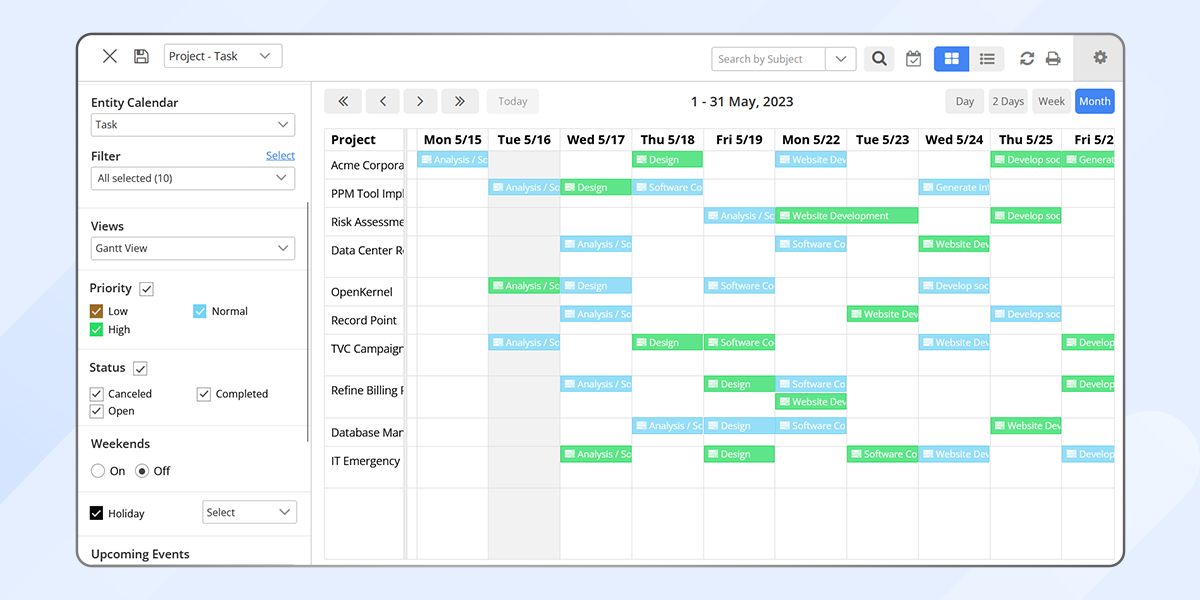 When visualizing calendar tasks, you can simply know the open/current tasks. So Calendar 365 gives you filters like Open, Cancelled, Completed and Scheduled. You can select according to your need or select all to see all tasks created so far for that project.
Project Management Resource Calendar
Another way to manage project tasks is through the resource calendar. Calendar 365 lets you visualize which resource is associated with which task. And here's what the Resource Calendar looks like.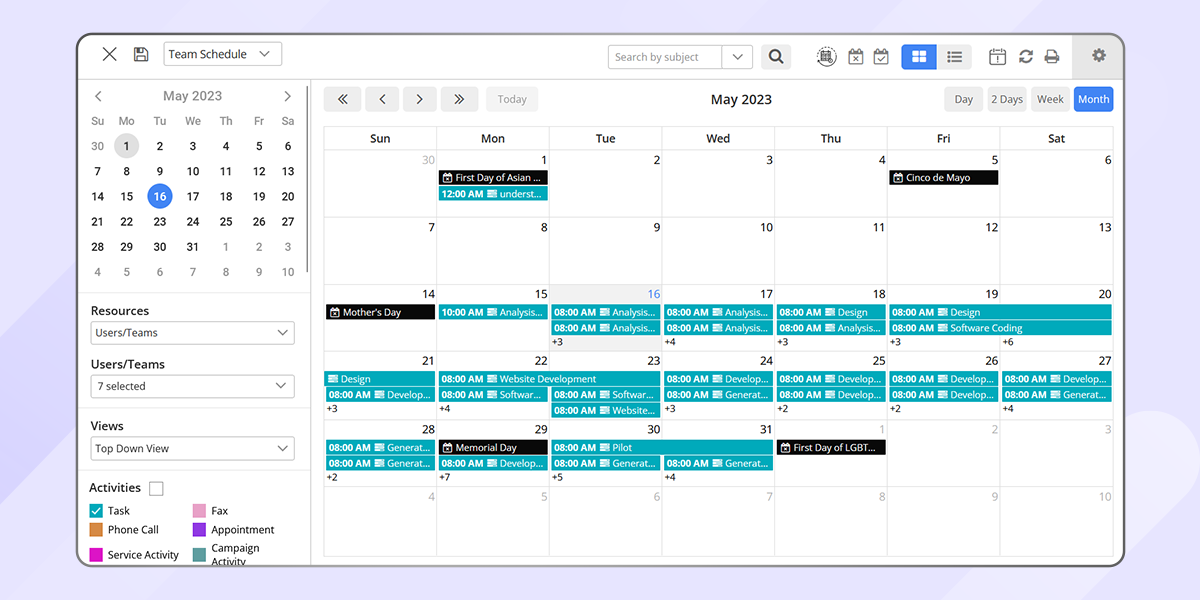 You can see which resource is associated with which task. Filter resources by username, teams, business units, or any persona used in your CRM.
Select a user, team, or business unit name. Most users prefer the Gantt view, but Calendar 365 lets you use your choice of view from Gantt, Agenda, Top Down, and Timeline views.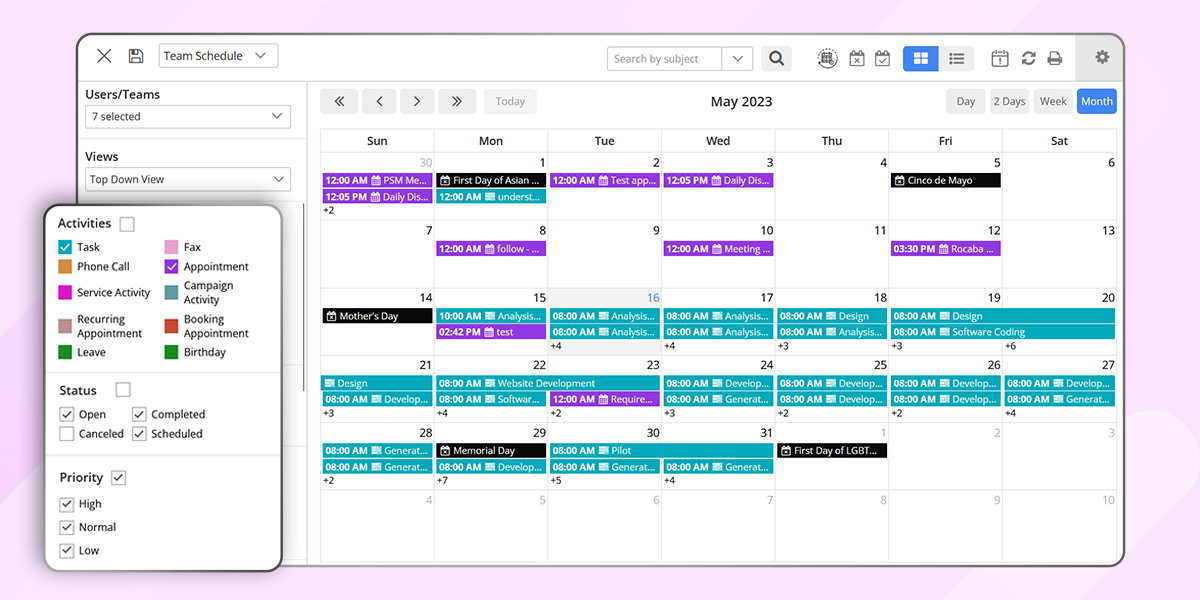 Next is a list of various activities such as tasks, appointments, phone calls, vacations, birthdays, etc. Select one, two, or all to see the actions of the resource you selected.
Furthermore, all operations are color-coded for easy visualization. As you can see, all the greens are birth and leaf. Colors help differentiate activities when you're visualizing several at a time.
Like the Entity Calendar, the Resource Calendar also allows you to filter by task status. So if you want to know all the tasks that John William has done so far, you can do it in a few clicks. Similarly, you get the task priority filter. If you want to see only the high priority tasks performed by John William during a selected time period, you have it all in Calendar 365. For more details on a task or activity drawn on the calendar, you can hover over it for more detailed information. .
So you can use Calendar 365 for project management. To learn more about it, you can book a demo with us and sign up for a free trial to get a hands-on experience. It will help you understand how it streamlines the schedule and works as a team productivity booster.
All product and company names are trademarks™, registered® or copyright© trademarks of their respective owners. Their use does not imply any affiliation or endorsement by them.