As you drive into Ithaca, you may notice many bumper stickers with the slogan, 'Ithaca is Gorges.' But after experiencing Ithaca's stunning waterfalls, you will understand why this catch phrase has become so popular.
From hidden gems to beautiful cascades located directly in the center of town, Ithaca consistently offers visitors the chance to see nature at its finest with numerous waterfalls through its stunning gorges.
In our Ithaca travel guide, we are going to show you the best of Ithaca including:
Best time to visit upstate NY waterfalls
12 must see waterfalls in Ithaca
Tips for your visit only a local would know
Our personal photos for each Ithaca waterfall
Now, let's find the best Ithaca waterfalls!
*Please note this post may contain affiliate links. If you click on one, we may earn a small commission at no extra cost to you. Thank you for supporting the free content we provide! Read more in our disclosure policy.*
Our Experience With Finger Lakes Waterfalls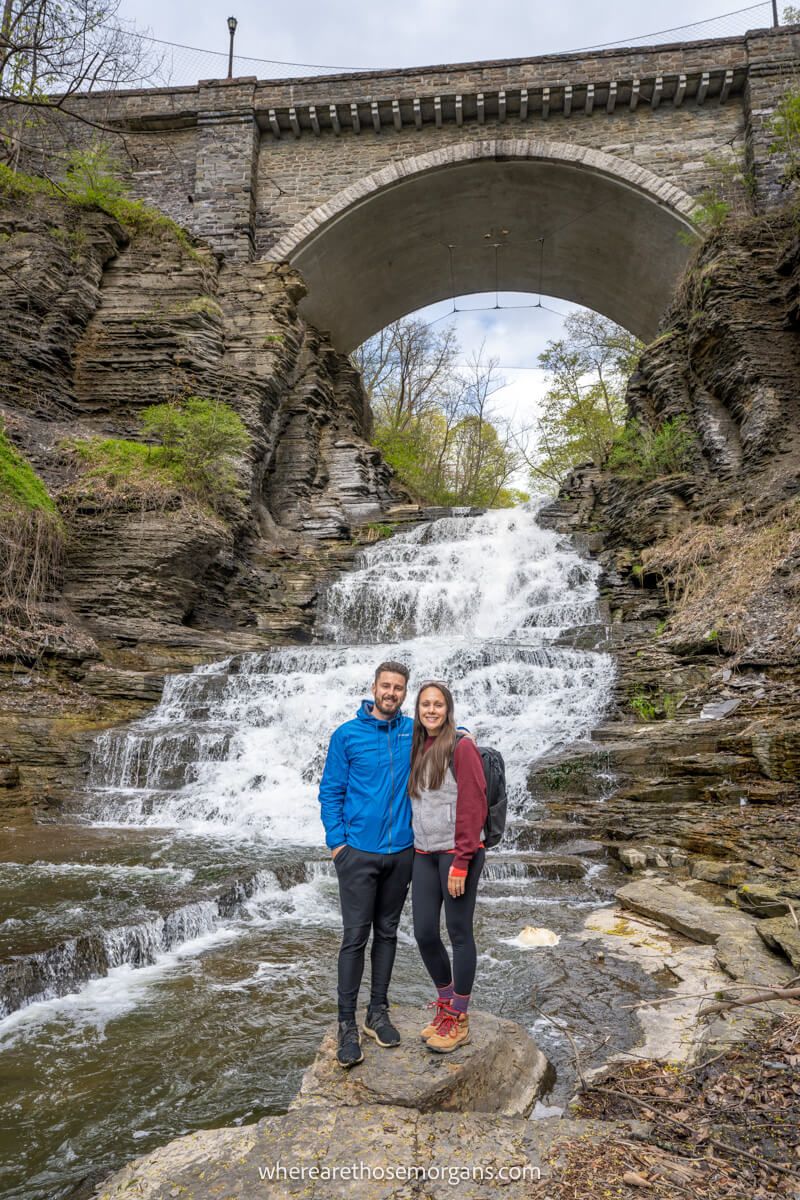 Kristen grew up in the Finger Lakes region of New York State in a small town near Ithaca and has visited many of the waterfalls on this list numerous times as a child.
When Mark first moved to the US in 2019, we also lived in the Finger Lakes area. Once the pandemic began a few months later, visiting these NY waterfalls was how we spent a lot of our time.
While we no longer live in the area, Kristen's family still lives in upstate New York so we typically return to the Finger Lakes multiple times a year.
This comprehensive travel guide covers everything you need to plan the perfect visit trip when visiting the stunning waterfalls in Ithaca, New York.
Heading to the Finger Lakes? Don't miss our popular guide featuring the best places to visit and fun things to do in the NY Finger Lakes.
Best Time To Visit Ithaca Waterfalls
If you want to see Ithaca waterfalls at their fullest, you should visit in the spring season. During this time of year, the snow pack melts in upstate NY and the waterfalls will be flowing at their heaviest.
We also love visiting Ithaca in the fall season because the gorges come alive with stunning fall foliage.
However, despite the vibrant colors, the fall is the worst time to see flowing waterfalls in Ithaca because the water will be at its lowest level.
So our must see waterfalls in Ithaca guide includes photos from both the spring and fall so you can compare the different seasons for yourself.
Why Visit Ithaca In Upstate, NY?
The town of Ithaca is located at the southern tip of Cayuga Lake. This is a lively college town with plenty of charm featuring both Cornell University and Ithaca College.
In addition to the nearby colleges, you can also visit the Ithaca Commons, Cornell Botanic Garden and numerous New York State Parks.
Downtown Ithaca would be a good place to base yourself for a few days of waterfall chasing because there us so much to do in the area.
Without further ado, let's find the gorgeous Ithaca waterfalls! Use our interactive map at the end of this guide to help create an itinerary when you visit.
1. Ithaca Falls – Downtown Ithaca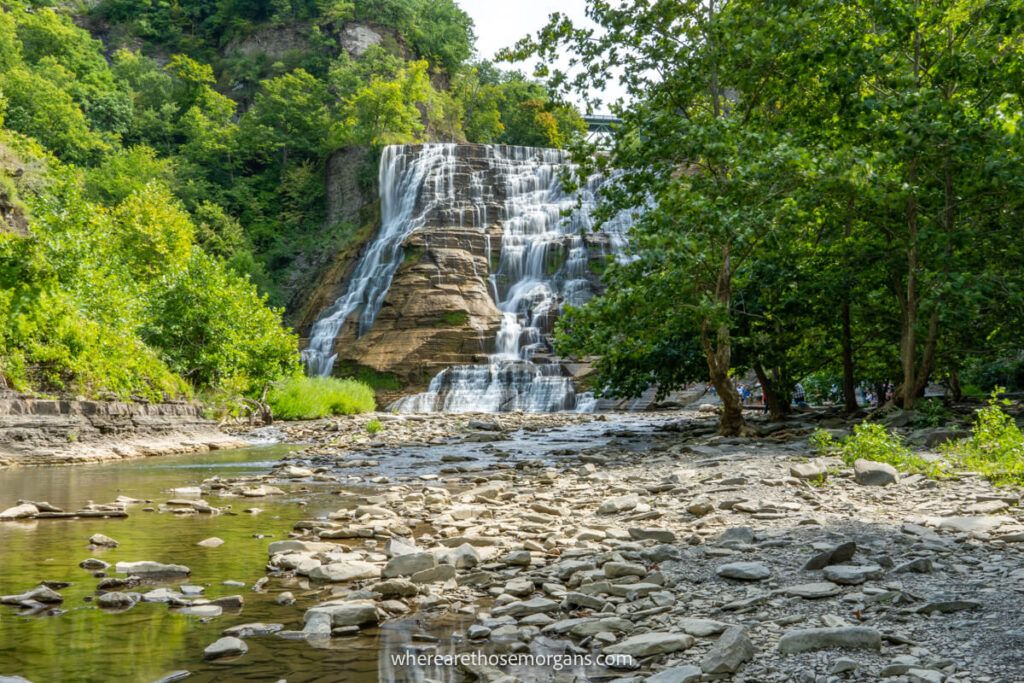 Waterfall Height: 150 ft (46m)
Waterfall Crest: 175 ft (53m)
Waterway: Fall Creek
Distance from Ithaca: About 1 mile
Surrounded by Cornell University student housing districts, Ithaca Falls is not only the regions most powerful waterfall, but one of the most easily visited waterfalls.
Ithaca Falls towers over visitors at 150 ft high and 175 ft wide. We like this waterfall because it is positioned completely unexpectedly considering it is in Ithaca city center.
Reaching Ithaca Falls requires a very short and easy walk alongside a rocky river bed but the area is small and often jam packed full of tourists, families or students.
The best way to reach Ithaca Falls from downtown is to take Aurora St north for about 0.7 miles to Lincoln St. From here, turn right and then left onto Lake St. Take note of the falls on your right.
Want help finding Ithaca Falls? Use our guide featuring tips on how to visit Ithaca Falls including where to park and best photos spots.
2. Cascadilla Gorge – Downtown Ithaca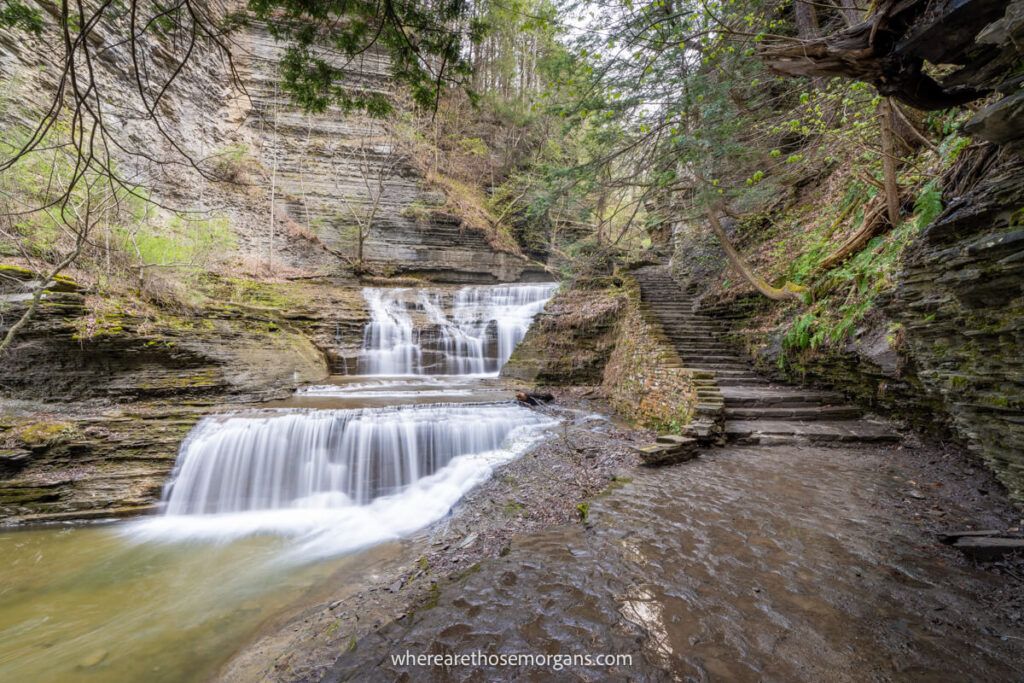 Waterfall Height: Two drops over 30ft (9m)
Waterfall Crest: Varies
Waterway: Cascadilla Creek
Distance from Ithaca: 0.5 miles from downtown
You will find the impressive Cascadilla Falls inside the Cascadilla Gorge. This gorge is a high trafficked route connecting Cornell University to Ithaca Collegetown.
We like the Cascadilla Gorge because it's a hidden oasis from the busy city as its transports you into another world filled with serenity and waterfalls.
As you hike through the gorge, you will pass 6 large and several smaller waterfalls. It's stunning to note how these Ithaca falls have carved their mark through the soft shale and sandstone over time.
Cascadilla Gorge is nicknamed the staircase in reference to both the beautiful cascading waterfalls and the climb back up the stairs to campus.
You will find the upper trailhead for Cascadilla Gorge near College Ave Bridge next to the Schwartz center for the Arts. The lower trailhead is located downtown at Cascadilla Park near Linn St and Court St.
Want to know more about Cascadilla Gorge? Don't miss our popular guide about hiking Cascadilla Gorge Trail.
3. Wells Falls – Downtown Ithaca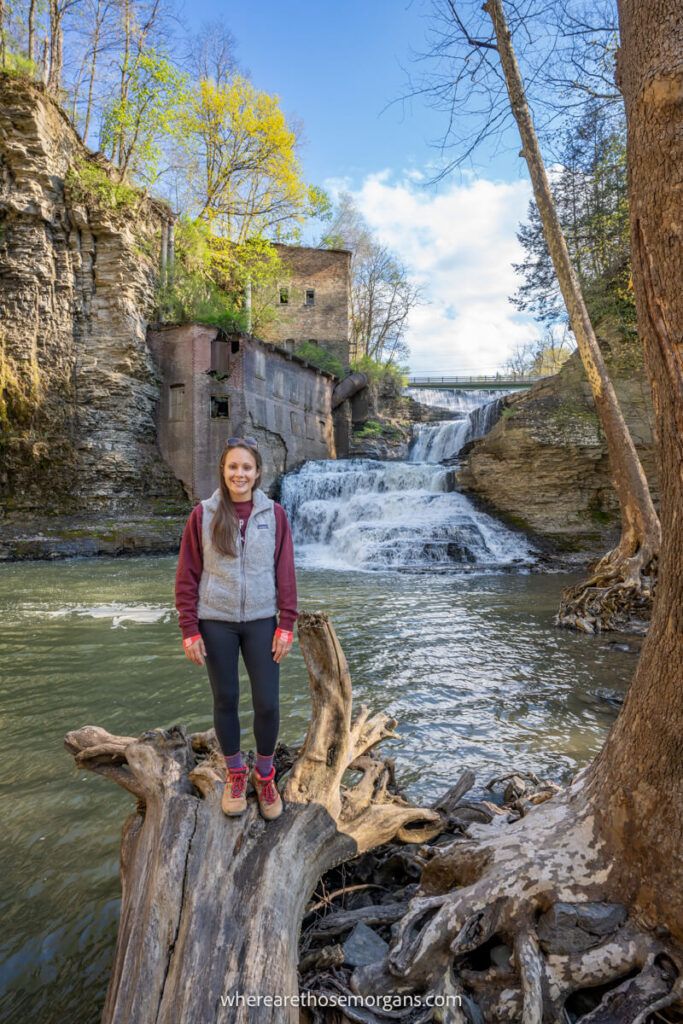 Waterfall Height: 65ft (20m)
Waterfall Crest: Varies
Waterway: Six Mile Creek
Distance from Ithaca: 1.5 miles from downtown
Wells Falls otherwise known as Businessman's Lunch Falls, offers visitors a cascading 65 ft waterfall split into four beautiful levels.
We like Wells Falls because it offers a different view compared to other waterfalls in Ithaca as it sits directly next to the abandoned Van Natta Pumping Station.
Wells Falls is unique because the area has been reclaimed by nature making it a popular location. This waterfall is also quite easy to visit because after a short 10 minute walk, you will find yourself at the base of Wells Falls.
The best way to reach Wells Falls is to follow Route 79 east from the Ithaca Commons and turn right onto Giles St. You will then turn left into the Mulholland Wildflower Preserve to park your vehicle.
4. Lucifer Falls – Robert H. Treman State Park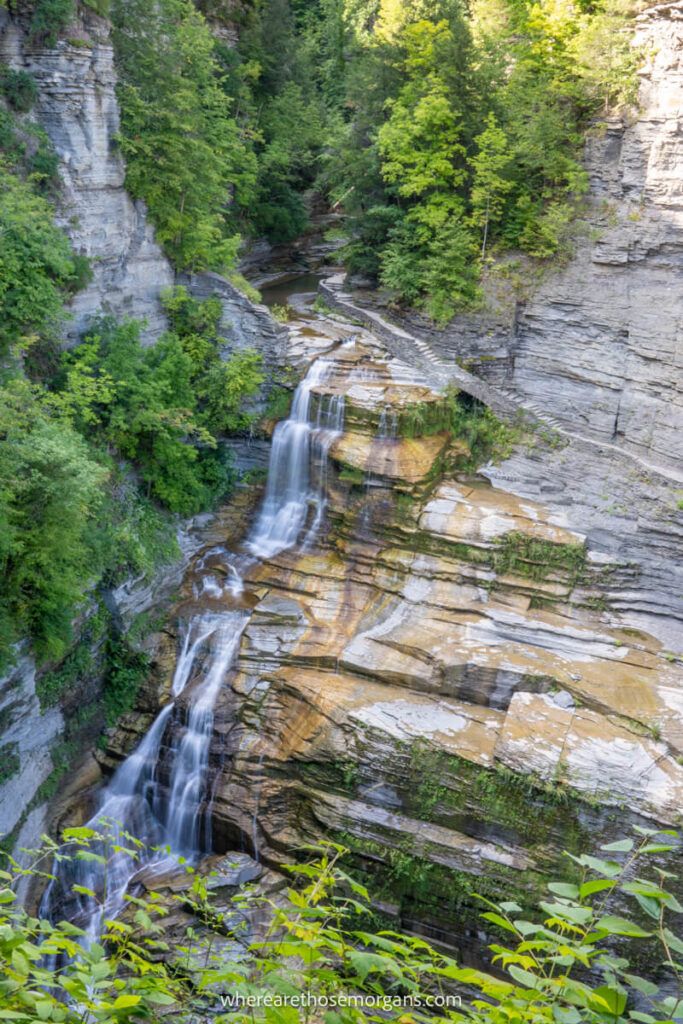 Waterfall Height: 115 ft (35m)
Waterfall Crest: 25-30 ft (8-9m)
Waterway: Enfield Creek
Distance from Ithaca: About 8 miles from downtown
Visiting Robert H. Treman State Park is the perfect day out for hiking in Ithaca. This park features rugged gorges, dramatic scenery and natural beauty around every corner.
The two main waterfalls at Robert H. Treman include Lucifer Falls and Lower Falls. Each of these two waterfalls offer visitors stunning vistas and a natural fed swimming hole.
Lucifer Falls is an incredibly attractive cascade waterfall flowing out of a stunning gorge and plummets 115 ft over multiple tiers of rock into Enfield Creek.
What makes this Ithaca fall so attractive is the dramatic gorge opening up into the Creek along with a fairytale-like stone path hugging tightly to the cliff edge.
There are two different viewpoints which offer unique perspectives of Lucifer Falls:
1). Rim Trail offers the quintessential distant view from which you can absorb the beautiful scene uninterrupted while Gorge Trail brings you to within 10 meters of Lucifer Falls upper section.
2). Further down the Robert H. Treman State Park 2.25 mile Gorge Trail, you can enter Enfield Creek and wade as close as you dare to the drop zone of Lucifer Falls, as long as the waterfall is lightly flowing.
Heading to Robert H. Treman? Don't miss our guide featuring everything you need to know when visiting Robert H. Treman State Park.
5. Lower Falls – Robert H. Treman State Park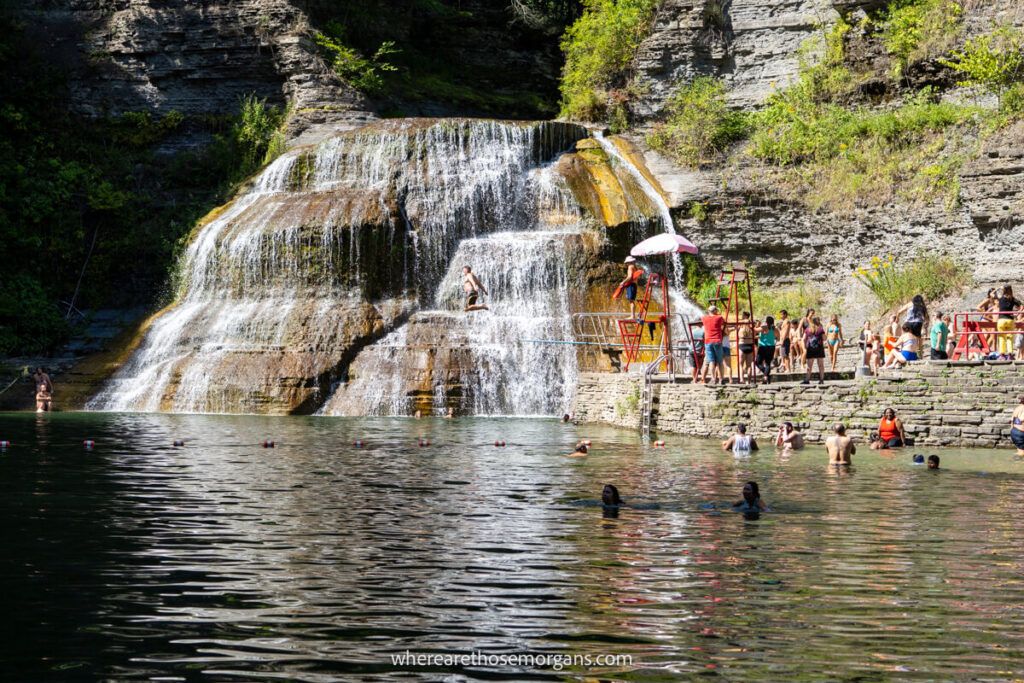 Lower Falls (or Enfield Falls) is located a only few miles downstream of Lucifer Falls at Robert H Treman State Park. It's worth hiking the fantastic 2.25 mile Gorge trail from top to bottom to see the entire creek.
Enfield Creek narrows into a tunnel-like ravine as it nears the end of its flow and plunges 30 ft into the designated swimming area which is popular with visitors in the summertime.
The best way to reach Buttermilk Falls State Park is to follow Route 13 south about 4 miles and turn right onto Route 327. The lower entrance parking lot will be on your immediate left.
Travel Tip: Park at Upper Entrance for much shorter hiking distances to Lucifer Falls from both Rim overlook and Gorge viewpoint (around 0.5 miles).
6. Buttermilk Falls – Buttermilk Falls State Park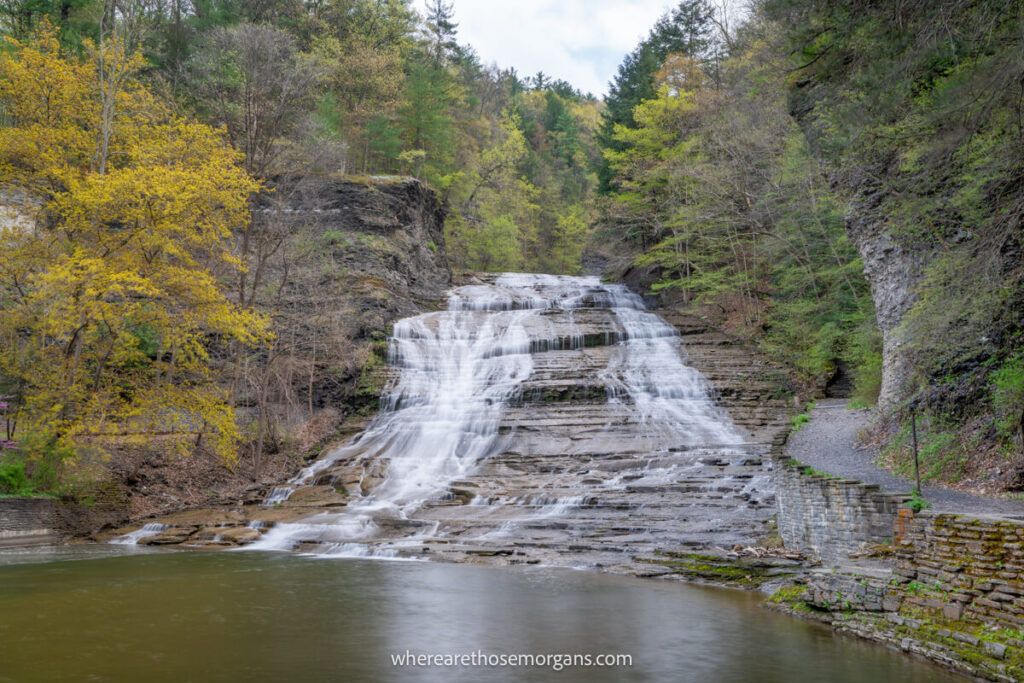 Waterfall Height: 165 ft (50m)
Waterfall Crest: 45 ft (14m)
Waterway: Buttermilk Creek
Distance from Ithaca: About 2.5 miles from downtown
Buttermilk Falls State Park is one of the most popular parks around Ithaca, NY thanks to a short but exceptionally scenic Gorge Trail featuring pothole pools and dozens of small waterfalls dropping from less than 1 meter.
Right at the entrance, the 165 ft high creamy frothing waterfall, which happens to look like buttermilk slips, slides and glides down an angled slab of rock into a swimming pool.
The most striking feature of Buttermilk Falls is how the water seemingly bursts out of a dense tree lined hillside, much like an enormous waterslide.
The easiest way to get to Buttermilk Falls is to follow Route 13 from downtown Ithaca and look for the blue bridge to make a left.
If you want to visit upper gorge, take the left at Sand bank Rd and turn left again after 2.5 miles onto W King Rd. You will find the upper entrance shortly on you right.
Heading to Buttermilk Falls? You might like to read our complete guide to visiting Buttermilk Falls State Park in Ithaca, NY.
7. Taughannock Falls – Taughannock Falls State Park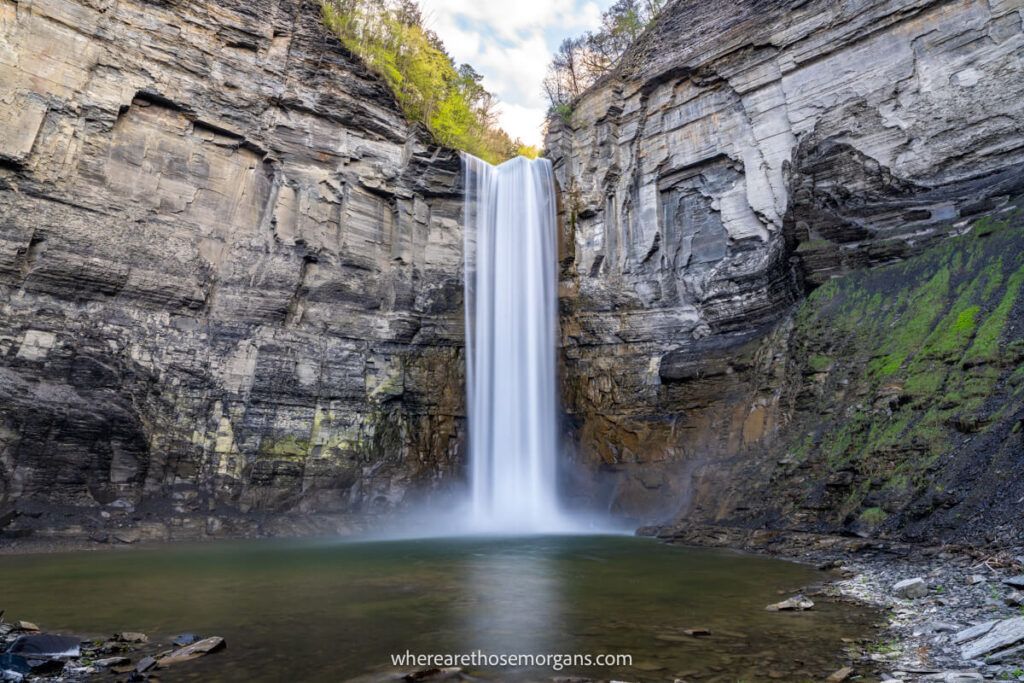 Waterfall Height: 215 ft (66m)
Waterfall Crest: 30-40 ft (9-12m)
Waterway: Taughannock Creek
Distance from Ithaca: About 10 miles
Taughannock Falls is the tallest single-drop waterfall east of the Rock Mountains easily making this Ithaca waterfall the most visually impressive waterfall in New York.
The spectacular single drop waterfall plummets 215ft into a deep bowl-like depression in the Earth. Taughannock Falls can be viewed from the drop zone or from an incredible overlook hundreds of feet away.
Visitors can walk along a flat Gorge Trail (or even the dry creek bed itself when dry) to reach the base of Taughannock Falls, which will be powerfully crashing over the ledge in spring and early summer.
The best way to reach the main parking lot for Taughannock Falls State Park is from Route 89 north.To access the over look, turn left onto Taughannock Park Road and follow the signs to the viewpoint.
8. Upper Taughannock Falls – Taughannock Falls State Park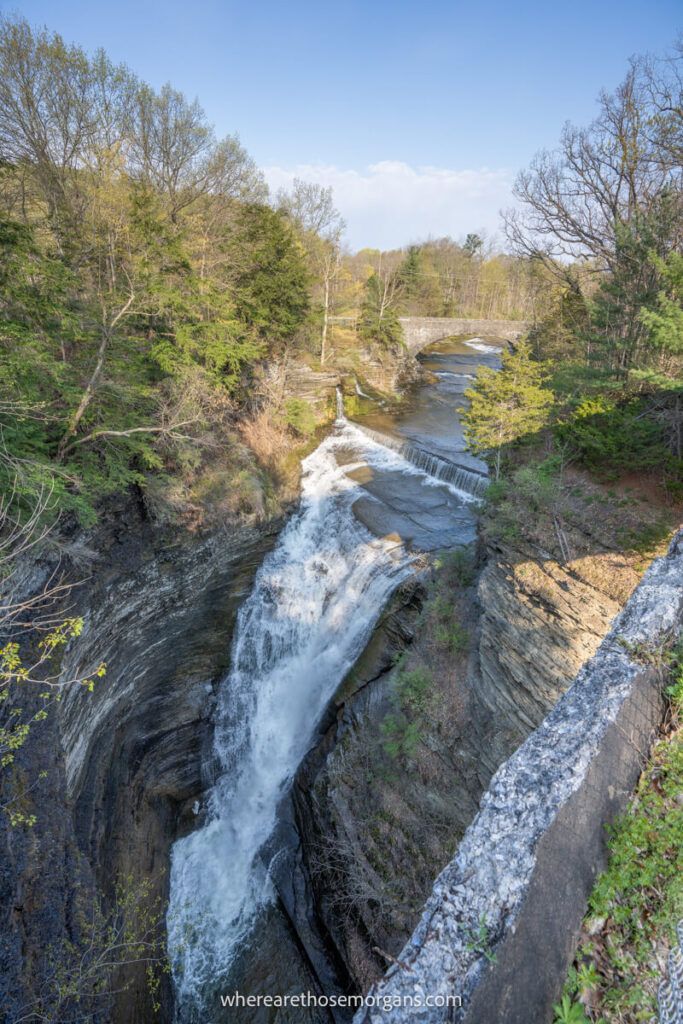 Upper Taughannock Falls is a much smaller waterfall located in Taughannock Falls State Park. Unfortunately, this waterfall is also a bit more difficult to see because it is partially obstructed.
You can reach Upper Falls by driving Park Road and take the left onto Jacksonville Road where you will find a small gravel parking lot.
You can also hike either North Rim or South Rim Trail and you will find Upper Falls where these two longer hiking trails meet.
9. Lower Taughannock Falls – Taughannock Falls State Park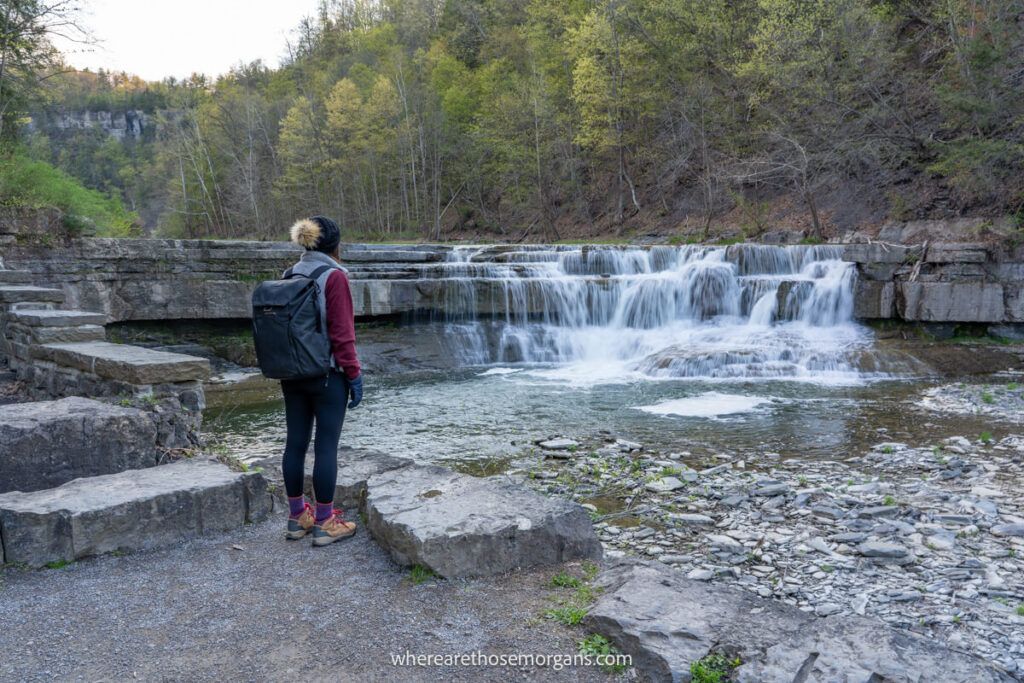 The Lower Falls at Taughannock Falls State Park are located along NYS Route 89 where the Gorge Trail begins. So if you hike the Gorge Trail, you will pass by Lower Falls shortly after beginning your hike.
The photo above is from a spring visit. April is the best time to see the water flowing in lower falls, but you still might be able to see a little bit of water trickling through Taughannock Creek during other times of the year.
Heading to Taughannock Falls? Read our Taughannock Falls State Park guide featuring both the Gorge Trail and famous waterfall overlook.
10. Triphammer Falls – Cornell Campus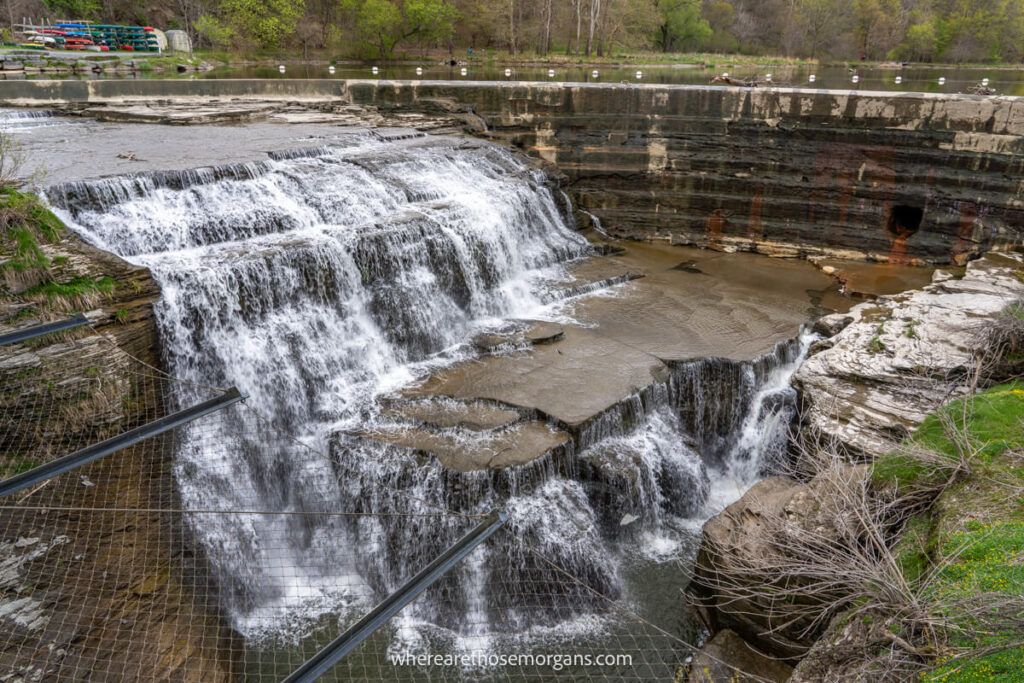 Waterfall Height: 55 ft (17m)
Waterfall Crest: 30-40 ft (9-12m)
Waterway: Falls Creek
Distance from Ithaca: On the Cornell Campus
Located right in heart of the Cornell University, Triphammer Falls is one of the many waterfalls located along Falls Creek in the middle of the busy Ivy League campus.
Interestingly, Triphammer Falls originally existed naturally but the waterfall was altered slightly in order help to create the dam we now see today and this resulted in the creation of Beebe Lake.
After stopping by Triphammer Falls, you can also find Rocky Falls and Horseshoe Falls nearby. We hoped to visit these additional Ithaca waterfalls but ran out of time during our last trip.
The best place to park to visit Triphammer Falls is at the Martin Y. Tang Welcome Center. From the intersection of University Ave and East Ave, you can explore Beebe Lake or the Cornell Botanical Gardens.
11. Denison Falls – Cayuga Nature Center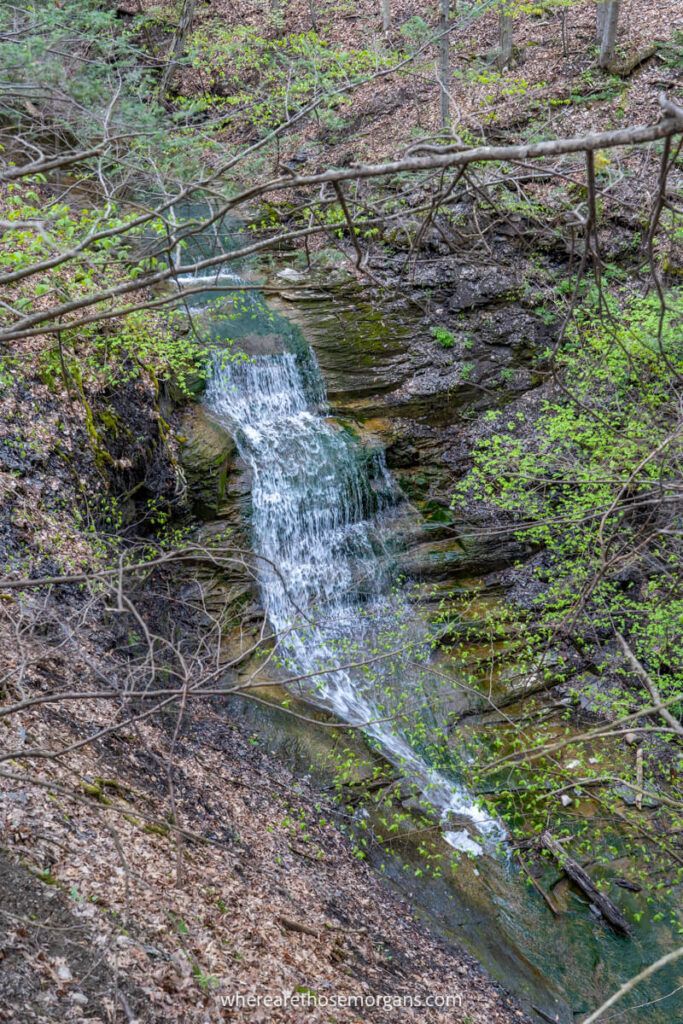 Waterfall Height: 21 ft (6m)
Waterfall Crest: Varies
Waterway: Unnamed 3 mile-long tributary to Cayuga Lake
Distance from Ithaca: About 7 miles
Denison Falls is a 21 ft cascading Ithaca waterfall located inside the Cayuga Nature Center surrounded by a peaceful wooded gorge and numerous hiking trails.
Named after local teacher and naturalist, Marion Denison Ehrhart, Denison Falls is one of Ithaca's most unique waterfalls. It also sits next to an amazing six-story tree house overlooking the Denison gorge.
We love visiting Denison Falls because an easy gravel trail will lead you directly to the waterfall as you pass by the Cayuga Nature Center Main Lodge and outdoor animals.
The best way to get to Denison Falls is to take Route 89 north 5 miles to the entrance of the Cayuga Nature Center. Use the All Peoples Trail to make your way directly to the waterfall.
Admission to the trails, treehouse and lodge work on a pay as you wish system. Please try to leave a little donation when you visit to support the amazing work provided by the center.
12. Ludlowville Falls – Ludlowville Park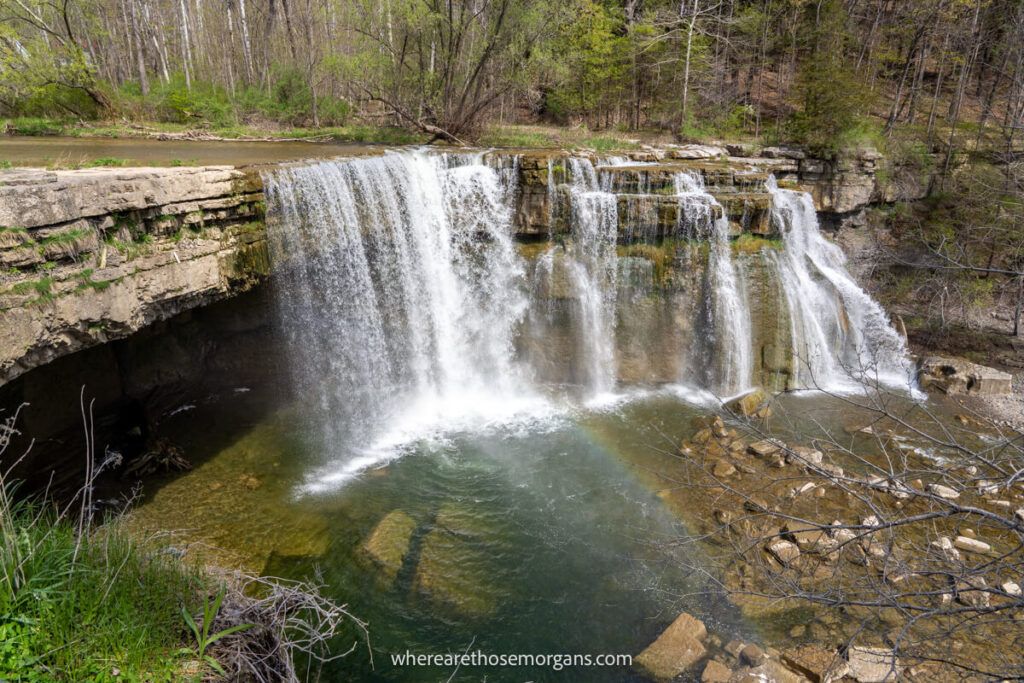 Waterfall Height: 35 ft (11m)
Waterfall Crest: 120 ft (37m)
Waterway: Salmon Creek
Distance from Ithaca: About 10 miles
Ludlowville Falls, sometimes also known as Salmon Creek Falls, can be found in Ludlowville Park which is about 10 miles from downtown Ithaca.
This Ithaca waterfall is certainly worth a visit became it features a wide creek bed and a very large cave underneath its cap rock which is often emits a beautiful aquamarine color.
We visited in April and you can see from our photo above that when water levels are high, the cave is barely noticeable under the rushing water in the spring time.
The easiest way to visit Ludlowville Falls is by parking in the nearby Ludlowville Park and taking a short walk to the vantage point of the popular waterfall.
You can also head towards the chain fence and make your way down the wooded trail towards the rushing falls. Swimming is prohibited in this area, but you will find often find visitors fishing near the falls.
Want more waterfall inspiration? Don't miss our guide featuring stunning quotes about waterfalls.
Where To Stay And Eat In Ithaca
If you are in the area to explore the gorges and beautiful waterfalls of Ithaca, you will definitely work up an appetite. Here are the best restaurants in Ithaca:
Where To Eat Near Ithaca:
If you need an Ithaca hotel recommendation, choose from any of these popular options below:
Hotels In Downtown Ithaca:
Want more options for Ithaca accommodation? Check out the best hotels in Ithaca on our sister site.
Ithaca Waterfalls Interactive Map
Click into the interactive map, zoom in or out and move around the area to find all recommended restaurants, hotels and best waterfalls in Ithaca.
You can also access our Ithaca waterfalls map via this link here.
Light Red – Ithaca waterfalls
Blue – Hotel recommendations
Maroon – Restaurant recommendations
Ithaca Waterfalls FAQ's
Let's take a look at some of the most frequently asked questions about waterfalls near Ithaca, NY.
What are the must see waterfalls in Ithaca?
Ithaca Falls, Taughannock Falls, Wells Falls and the multiple waterfalls of the Cascadilla Gorge are the must see waterfalls near Ithaca in Upstate NY.
What waterfalls are located on the Cornell Campus?
You can visit Triphammer Falls, Rocky Falls, Horseshoe Falls and visit the many waterfalls cascading down the Cascadilla Gorge when you visit Cornell University.
How many waterfalls are in Ithaca, NY?
There are over 150 beautiful waterfalls spread all throughout the gorges in Ithaca. This section of the Finger Lakes offers visitors the chance to see several waterfalls without traveling too far.
Our Popular Finger Lakes Guides
More New York State Guides
Want more New York content? Head over to our New York Travel Guides to explore the Finger Lakes, Adirondacks and the best of NYC.
---
We hope this guide featuring the best waterfalls in Ithaca, NY helps you plan your visit to upstate New York!
Please let us know if you have questions about any of these waterfalls in Ithaca or traveling through the Finger Lakes in the comment below.
Happy Waterfall Hunting,
Mark and Kristen
Enjoy This Ithaca Waterfalls Guide? Pin It For Your Visit!